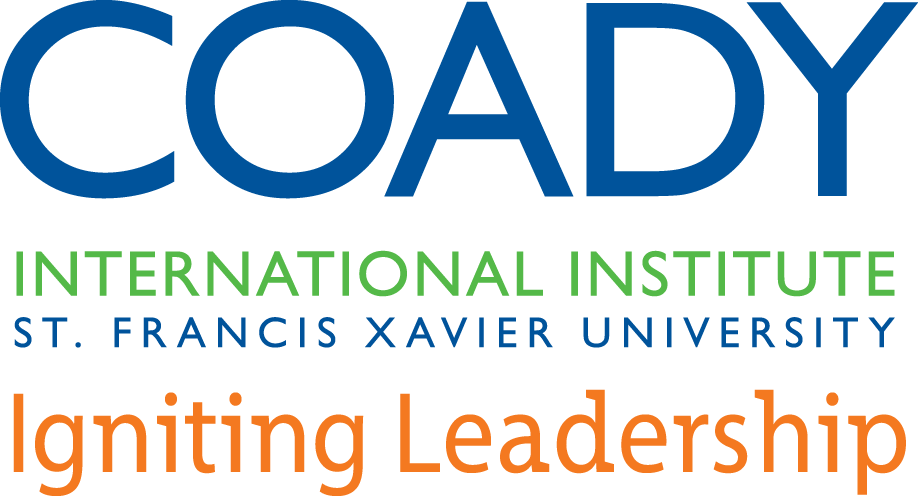 Application Deadline: Ongoing
Apply Now!  Scholarships available for qualified candidates.
The Coady Institute's educational programming includes campus-based programs, in-country training with partners, and advanced offerings in a Masters in Adult Education, in partnership with StFX.
Campus-based programs include a five-month Diploma in Development Leadership as well as specialized certificates that allow participants to gain a deep understanding of a particular area and share innovations, best practice, tools and knowledge.  The programs are aimed at practitioners who will apply what they learn at home in their organizations and communities and act as multiplier and mentors for others.

Admission Requirements
For Coady Institute education programs, you must have:
some experience in a community-based organization, people's organization, government department, intermediary organization, NGO or equivalent
a good working knowledge of English since all courses are taught in English
a university degree (preferred) and/or relevant education
Additional Requirements for Diploma Program:
Mid-to senior level position within your organization
At least five years experience in an organization working in development
Minimum TOEFL score of 550
Additional Requirements for Certificate Programs:
At least three years experience in an organization working in development
Click the "Who is best suited for this program" section on each certificate page to ensure the program is right for you
Other Coady Programs:
Check the specific details of the program. For example, you must be a Canadian Indigenous woman (First Nations, Métis or Inuit) to be accepted in the Indigenous Women in Community Leadership Program, and the Youth Internship Program is for people between the ages of 19 and 30.
Programmes and Dates:
Diploma in Development Leadership
Diploma in Development Leadership, July 20 – December 5, 2015
44 seats available. Apply Early!
Promoting Accountable Democracies
Advocacy & Citizen Engagement, April 21 – May 7, 2015
Citizen-Led Accountability: Strategies & Tools, May 12 – May 29, 2015
Community-Based Conflict Transformation & Peacebuilding, June 3 – June 19, 2015
Strengthening Local Economies
Livelihoods & Markets, Location: Ethiopia, March 23 – April 3, 2015
Livelihoods & Markets, Location: Johannesburg, April 20 – 24, 2015
Building Assets & Agency for Citizen-Led Development, April 21 – May 7, 2015
Livelihoods & Markets, May 12 – May 29, 2015
Community-Based Microfinance for Financial Inclusion, Antigonish Campus, June 3 – June 19, 2015
Community-Based Microfinance for Financial Inclusion, Hyderabad, India, December 8 – 20, 2014
Community-Based Microfinance for Financial Inclusion, Ethiopia, March 23 – April 3, 2015
Building Resilient Communities
Building on Local & Indigenous Knowledge for Community Resilience, April 21 – May 7, 2015
Community-Driven Impact Assessment, May 12 – May 29, 2015
Integrating Food Justice into Community Programs, June 3 – June 19, 2015
Specializations in Leadership Skills
Research for Citizen-led Change, October 14 – October 30, 2015
Facilitation & Training Approaches for Community Change, October 14 – October 30, 2015
Learning Organizations and Change, October 14 – October 30, 2015
Re-thinking Partnership, October 14 – October 30, 2015
Women's Leadership
Community Development Leadership by Women, June 3 – June 19, 2015
Global Change Leaders, August 24 – October 8, 2015
Indigenous Women in Community Leadership, May 4 – August 28, 2015
Canadian Women's Foundation Leadership Institute, May, 2015
Youth Leadership
Skills for Social Change, May 12 – 29, 2015
Apply Now for the Coady International Institute's programs