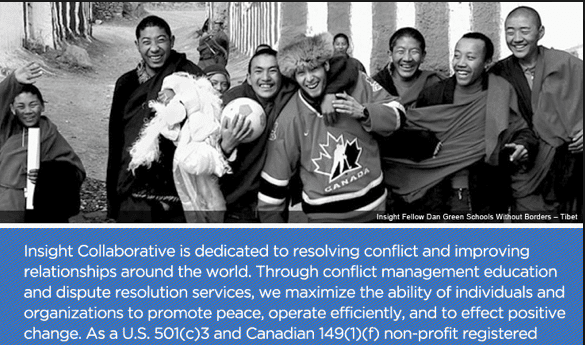 Application Deadline: January 15, 2015
Applications are now been accepted for the 2015 Insight Fellowship Programme.
Each year, the Insight Collaborative Fellowship Program selects a group of exceptional Fellows dedicated to making a positive difference in the world, and provides them with an opportunity to turn their passion and determination into action.
Through intensive training and planning, Insight Collaborative teaches Fellows how to develop and implement innovative programs throughout the world in a series of three-month placements.

Applications and placements are shaped by the Insight Fellowship Guidelines, which encourage original and reflective thinking, innovative approaches to managing conflict, exposure to other cultures and customs, cultivation of entrepreneurship and leadership, volunteering for the benefit of underserved populations, and the development of a compassionate disposition toward the world.
Fellowship Worth:
The Fellowship includes a $25,000 USD expense allowance to support multiple placements totaling one year, typically in three to four month blocks. Each Fellow is required to repay the amount of the $25,000 allowance used through individual fund raising efforts, regenerating the funds to ensure support for the next Fellow. This "pay forward" approach instills the values of sustainability and non-profit entrepreneurship.
The first three-month placement is at the Boston offices of Insight Collaborative and its affiliate, Insight Partners. During this tenure in Boston, Fellows advance their understanding of the theory and practice of effective negotiation, communication, and mediation; meet pivotal figures in the field; attend workshops; receive personalized coaching; and see first-hand how international conflict management professionals operate in the academic, non-profit, and for-profit sectors.
The subsequent nine months are divided into three foreign placements proposed and arranged by the Fellow. Placements are approved by Insight Collaborative on the basis of safety and the extent to which they meet the Insight Fellowship Guidelines.
Eligibility
Each applicant must be: (
a graduate of an accredited college or university or in good standing to graduate prior to the start of the Fellowship;
fluent in English;
available and committed to serving 12 consecutive months from the start of the Fellowship; and
dedicated to fulfilling the purposes of the Fellowship Program and to prioritizing the Insight Fellowship Guidelines.
Applicants are judged on the strength of their application and on their personal achievements, character, and abilities.
Experience related to the study or practice of confl ict management or alternative dispute resolution (ADR) is preferred, but not required. Insight Fellows must have strong academic and extracurricular portfolios
Application Process
All completed applications submitted by the application deadline will be reviewed by Insight Collaborative.
Finalists will be invited to Boston for a Finalists Weekend in March consisting of an in-person interview, dinner, and a half-day negotiation workshop.
Download:
For More Information:
Visit the Official Webpage of the Insight Fellowship Programme