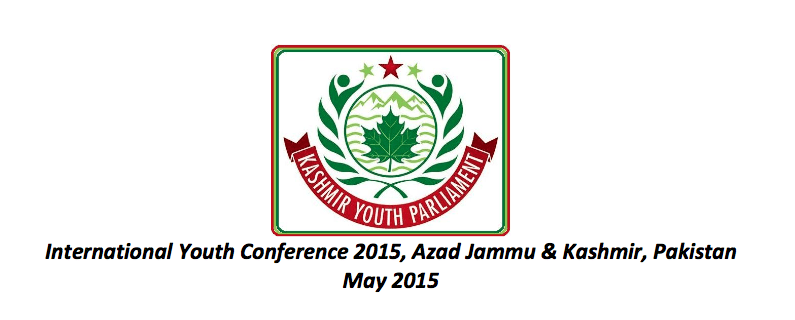 Application Deadline: February 20th 2015
Youth is more than half of the world's total population. Youth is supposed to be the leading stakeholder of the planet earth in various aspects. At an individual level young people are playing an important role for development and progress in their communities with new and innovative ideas and practices and effective approaches to addressing issues. Collectively, youth, inspired with strong visions and equipped with relevant skills, can work together through participation and partnership to make a better world.
To foster the cooperation, communication and to build strong relationship among the youth of this planet, Kashmir Youth Parliament is going to organize International Youth Conference 2015, Azad Kashmir, to offer a platform for youth as future leaders of the world to hone their leadership, diplomacy, cultural, intercultural communication, critical thinking and self-development skills.
International Youth Conference 2015 (IYC2015 )aims to explore how full potential of the youth from around the world can be effectively utilized to collaborate for common goals of progress and development and to minimize the challenges and issues in variety of perspectives. Participants will develop the concepts and skills needed to positively impact their communities.
This conference brings together youth leaders and activists, and youth leaders from all over the world together to increase their awareness of youth rights and responsibilities, while also providing them opportunities to strengthen their leadership and diplomatic skills.
The goal is to empower youth by providing the tools and knowledge that will help them develop into future leaders who will instigate positive change in our world, and to start a dialogue on global challenges and their solutions to inspire, equip and connect youth to make a difference on the following leading topics:
Rights and responsibilities of the youth as global citizens
Youth participation in democracy
Cross cultural harmony and Peace development
The conference features a variety of activities such as:
The grand opening ceremony on the first evening, where cultural performance, introduction etc. government officials, diplomats, International media persons and Youth leaders will also join.
Plenary sessions, where highly experienced, known and appreciated speakers will be invited to contribute to discussions at the conference. To mention a few: Famous Journalists, professionals, youth experts; representatives from Kashmir Youth Parliament, ICRC, United Nations officials , Dignitaries from Pakistan Government, and many more.
Interactive workshops on the following topics:
Environmental protection and sustainable development
Youth participation in Democracy
Gender equality, and women empowerment
Developing youth leadership
Gender equality and women empowerment
Globalization and Youth
Gross-cultural communication
Eligibility:
Youth leaders from all the continents of the world with a wealth of experience in Youth NGOs and Voluntary Organizations, or with experience in youth activism and active citizenship and having a keen interest in youth empowerment and coordination with youth of Azad Kashmir aged between18-35.
Costs
There is no participation fee but participants have to pay for their own airfare and visa fee. All other costs on the ground, including food and accommodation and local transport, will be covered by IYC 2015.
The IYC2015 Azad Kashmir will welcome at total of 150 eligible youth. The breakdown of these 150 youth participants is as follows:
80 places for International participants,
40 places for Kashmiri participants and 20 for Pakistani Participants.
Selection

The selection of the participants will be based on responses to essay questions regarding motivation as well as past and future involvement in issues to be tackled during the Conference.  In addition, the organizers will take a look at your professional and/or educational and/or volunteering background to see how it is positioning you in a way that would help you disseminate what you will learn.
Also, the applicants' level of English proficiency will play a role in the selection process. Lastly, balance in terms of region and gender will be respected in the final selection.
Application
 Please fill in the online application form and submit it before the 20th February 2015 23:59 (PST).
You will be informed about the results of the selection of participants on 30th February.
Please download this registration form and send [email protected].
For More Information:
Visit the Official Webpage of the 2015 International Youth Conference 2015, Azad Kashmir, Pakistan