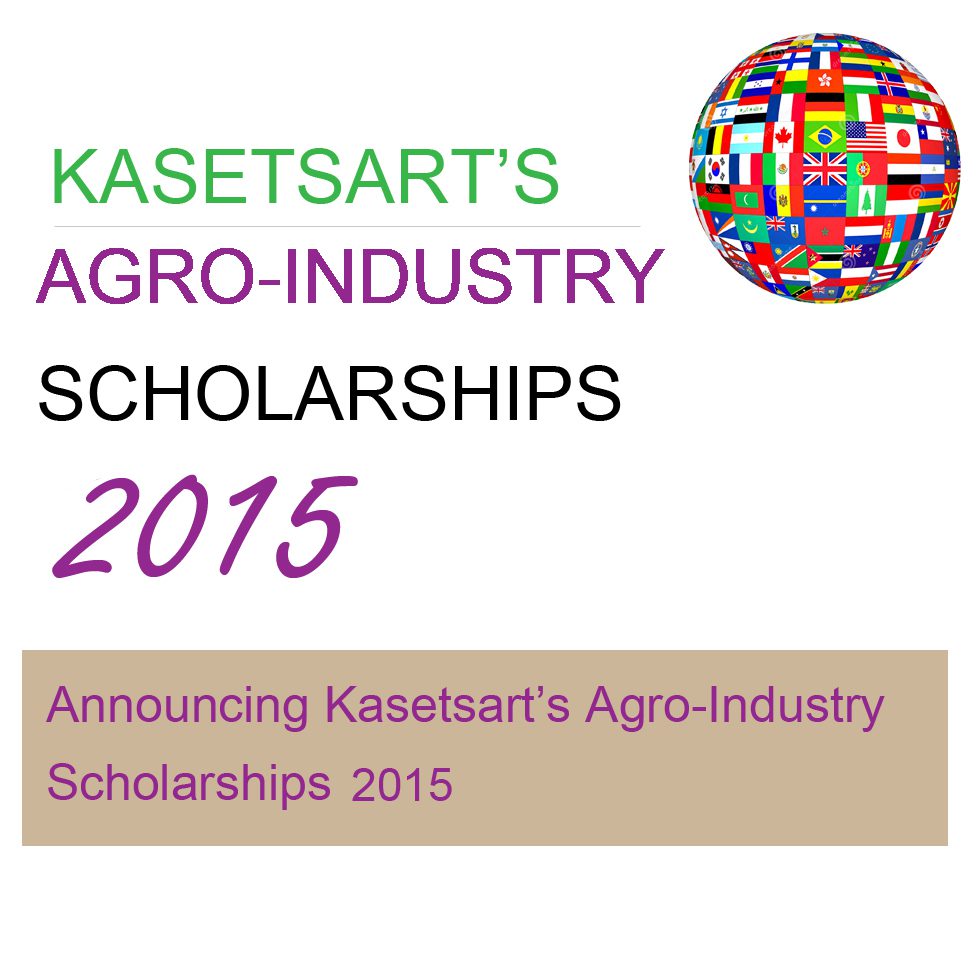 Application Deadline: May 15th 2015
The Faculty of Agro-Industry (AI), Kasetsart University (KU) offers scholarships for new international students to undertake graduate studies (Ph.D. and Masters.) in the following programs:
Agro-Industrial Technology Management
Biotechnology
Food Science
Packaging Technology

Agro-Industrial Product Development
Amount awarded will be one of two types as following:
Type 1 (Full tuition and fee): 10 scholarships
Grantee will receive a full tuition and enrollment fee waiver for 3 consecutive years for PhD students and 2 consecutive years for Master's students.
Type 2 (Full tuition and fee, and monthly stipend): 10 scholarships
Grantee will receive a full tuition and enrollment fee waiver and monthly stipends for living expenses at the rate of 12,000 Thai Baht for 3 consecutive years for Ph.D. students and 10,000 Thai Baht for 2 consecutive
years for Master student
Scholarship applicants are required to apply for the graduate school admission of KU in the same graduate program they have applied for the scholarships.
Please note that the scholarship application will be considered along with KU graduate school admission
application and the required documents.
Eligibility
In order to be eligible to apply for a scholarship you have to:
Not hold a Thai citizenship or a permanent residence status.
Meet the requirement of the graduate student application of the graduate school, Kasetsart University.
Hold a bachelor degree in food science, biotechnology, applied science, or related area of Agro-industry.
Criteria
Scholarships will be awarded on academic merit and research potential in the areas of Agro-industrial technology management, Biotechnology, Food science & technology, Packaging & materials technology,
and Product development
Submission of the English language proficiency of one of the following English proficiency test such as
IELTS or TOEFL score will be beneficial in the scholarship consideration
How to apply:
1. Reviewing the information about the graduate programs of the Faculty of Agro-Industry (
http://www.agro.ku.ac.th
) and the information about the admission to the graduate school of Kasetsart University on International Studies Center (ISC) website at
http://www.interprogram.ku.ac.th/
.
2. Downloading the application form of KU graduate school and AI scholarship application form which
3. Filling up the application forms and submitting the "KU Admission Form" and "AI Scholarship Application Form" in MS word format with the attachment of scanned "required documents" to
ku.oip@ku.ac.th
,(cc to
phuthai.b@ku.th
). Using "
2015 AI Scholarship
" in subject line (no signature required
in these forms when sending by email) .
4. Signing and submitting the original " KU Admission Form" and " AI Scholarship Application
Form " with the required documents to:
Mrs.
Palita Surachinnawat
Noble International Studies Center (ISC),
Office of the Registrar,
Kasetsart University
50 Ngamwongwan Road, Chatuchak,
Bangkok, 10900 Thailand
Placing "2015 AI SCHOLARSHIP " on the envelope
Required Documentation
1. Signed and completed application form for "Scholarships Application Form 2015"
2. Signed and completed application form for admission to Kasetsart University with attached photo
3. Conceptual proposal (3–4 pages A4)
4. Three letters of recommendation
5. Official transcripts of undergraduate and graduate coursework
6. Curriculum vitae
7. Proof of English proficiency
8. A copy of passport
9. Other information that the applicant deems relevant
Only completed applications will be considered and must be received no later than May 15th , 2015.
Scholarship recipients will be notified by email at the end of July 2015.
Scholarship recipients must maintain full-time graduate student status.
The scholarships do not cover student health insurance and travel cost.
All application documents will be forwarded to the
Graduate School of Kasetsart University for the admission process after the scholarship consideration
has been done.
Application Form:
For More Information: