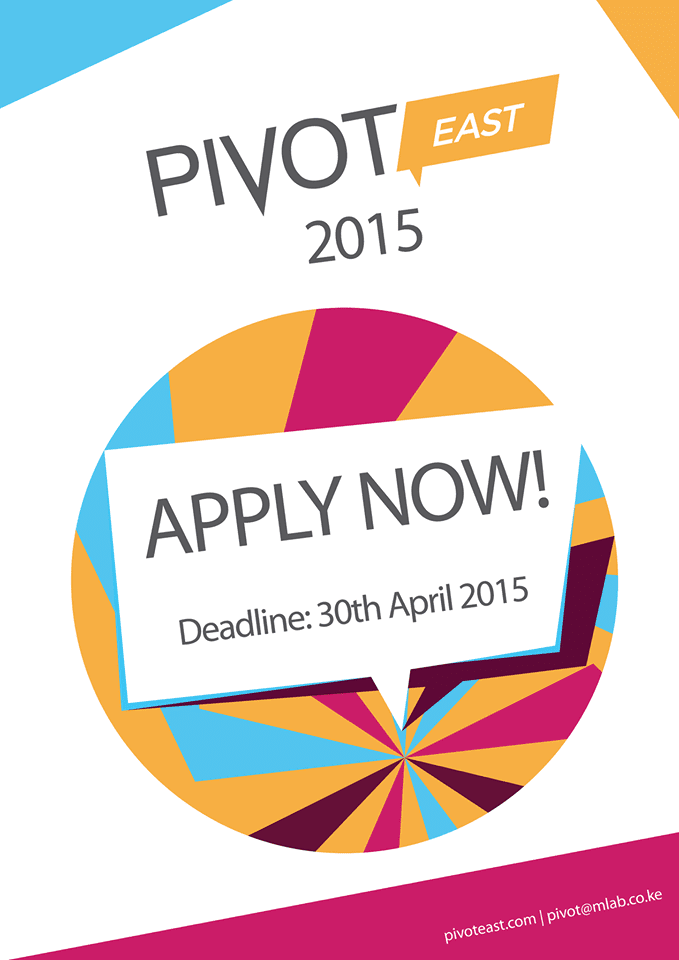 Application Deadline: April 30 2015
PIVOT East is organized by m:lab East Africa – a consortium comprising iHub, eMobilis, University of Nairobi and the World Wide Web Foundation. The competition aims to catalyse the growth of mobile startups, so as to amplify and consolidate the gains of East Africa's Mobile developer and entrepreneurship ecosystem.  The key objective for this year's event is "to facilitate discovery of the next wave of high potential mobile startups in the region"
Applications to compete in 2015 will be entered as detailed startup profiles which describe the customer pain, the startups solution, revenue streams, team composition and commitment, market traction, short-term projections and milestones among other aspects.  The overall startup profile will be used by the competition judges who will mostly be investors to score the potential of the startup to become a sustainable high growth enterprise.
Eligibility criteria to participate in PIVOT East 2015:

Participating startups must be domiciled in Uganda, Kenya, Tanzania, Rwanda, Ethiopia, South Sudan, Somalia or DR Congo
Participating startups must indicate details of at least two members of their team in their application profile
Competitors selected to the final 25 list must have set up a legal entity (business name, limited company etc) for their business by 30th April 2015. Competitors with legal entities already set up will have an added advantage at all judging stages.
Decisions of the judging committees at all competition stages will be final.
Categories
The competition has five categories which are;
Mobile Finance, Mobile Enterprise, Mobile Entertainment, Mobile Society and Governance and Mobile Utilities.
Each category will feature five finalists who will pitch to an audience of Investors, Development Partners, Government Representatives, Telecom Operators and other key mobile industry players from East Africa.
Benefits
The 25 finalists will receive training and coaching on how to pitch to investors.
Application Process
Applicants are required to upload a short (max 5 mins) video of the founders expressing the mission and strength of their startups.
How to enter the competition
Startups that meet the eligibility criteria may enter their application into the competition through the following steps :-
Go to startups.pivoteast.com
Register
Curate your Startup profile according to given profile headings
Team members to create individual profile pages to complete the startup profile information
Ensure that you publish your Startup profile to the team member only
For More Information:
Visit the Official Webpage of PIVOT East Africa