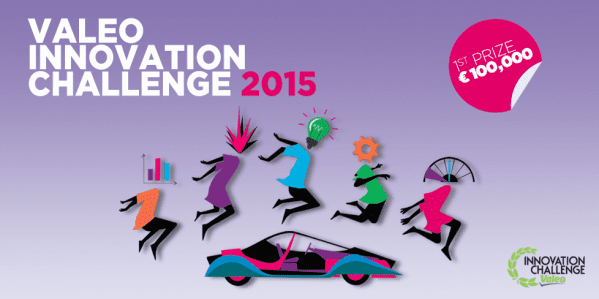 Submission Deadline: February 2, 2015.
To coincide with the 2014 Paris Motor Show, Valeo is kicking off its second "Valeo Innovation Challenge 2015″ contest. The competition invites students from engineering, technology and science schools and universities worldwide to take an active role in automobile innovation. Their task is to come up with automotive solutions that will make cars smarter and more intuitive by 2030.
The students will be asked to develop bold, revolutionary solutions for the communities of tomorrow. The contest serves to demonstrate that innovation is part of Valeo's DNA and that Research & Development are a priority for the company. This strategy guides the work of Valeo's 9,000 engineers, who innovate daily to invent the car of tomorrow.
Valeo plans to hire more than 1,000 engineers and technicians a year over the next three years and wants to make students aware of the challenges offered by professions in the automotive industry.
Students from around the world can now register for the Valeo Innovation Challenge 2015! It's your turn to put your creativity, skills and determination to work by designing a product or system that will make the car of the future smarter and more intuitive. €100,000 is up for grabs so surprise us with your boldness, innovation and originality!

Participation:
Create a team of 2 to 5 students from any discipline and register here.
Once you've come up with a technology to improve the car of the future, you'll need to write a 1- to 6-page project description (photos and diagrams are permitted too!) in English and submit it by 12 noon CET on February 2, 2015.
You'll be judged on the following:
• Boldness, innovation and originality (50%)
• Importance and relevance of the problem addressed and consideration of social needs (20%)
• Presentation quality of the submission (10%)
• Technical proficiency (10%)
• Feasibility of the prototype (10%)
Prize
On April 1, 2015, 20 qualifying teams would be announced.
Each of these 20 teams will receive €5,000 to build a working prototype of their project.
The finalists will present their projects to a jury of Valeo experts and outside partners at the 2015 Frankfurt Auto Show.
 The winning team will take home €100,000! (Second and third place teams will each receive €10,000.)
For More Infomation:
Visit the Official Webpage of the Valeo Innovation Challenge