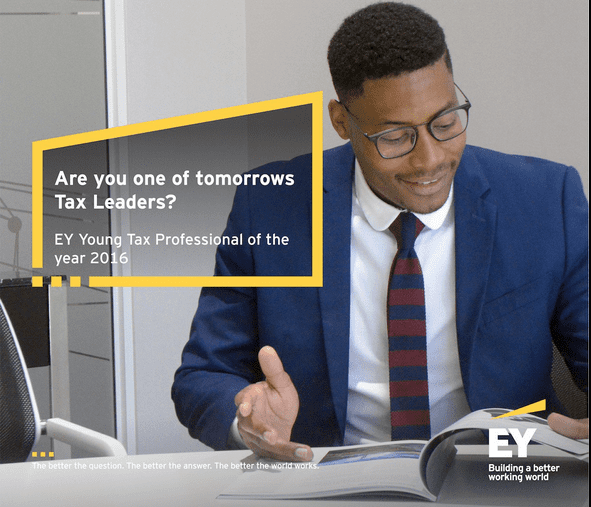 Application Deadline: 15 July 2016.
Do you have what it takes to be the next Young Tax Professional of the year?
The Young Tax Professional of the Year (YTPY) is an international competition where young and successful students are chosen by different countries to participate and demonstrate a range of skills in the International final competition to be chosen as the "young tax professional of the year"
YTPY takes place in 2 rounds.
The first round of the Program will take place in South Africa.
The winner will then compete in the international competition which takes place in Amsterdam, Netherlands.
Requirements


Anyone under the age of 28 studying towards an Honours or Master's degree in Economics, Accounting or Taxation.
Benefits : International Winner Prize:
The Young Tax Professional of the year international winners will be presented with prizes that provide an opportunity for personal experience as well as connection and understanding of the various markets and EY's position in these markets:
1st prize: A 30-day round-the-world business trip built around 10-day working visits to key EY area tax centers in London, New York, New York City and Hong Kong
2nd prize: A 10-day visit to one of EY's Tax Centers
3rd prize: An invitation to take part in one of our exceptional EY international client conferences, where you will rub shoulders with some of our finest partners and most valued clients
Application Procedure:
How can you stand a chance of becoming the 2016 South African Young Tax Professional of the year?
Download the tax questionnaire,  complete it and email it to

[email protected]

Submit a copy of your cv here
EY will review all submitted tax questionaires and determine the shortlist based on highest marks achieved
If shortlisted you will be invited to attend a day at EY, 102 Rivonia Road, Sandton to participate in various group and individual assessments.
The winner will be announced at a gala event in the evening.
For More Information:
Visit the Official Webpage of the 2016 South African Young Tax Professional of the year