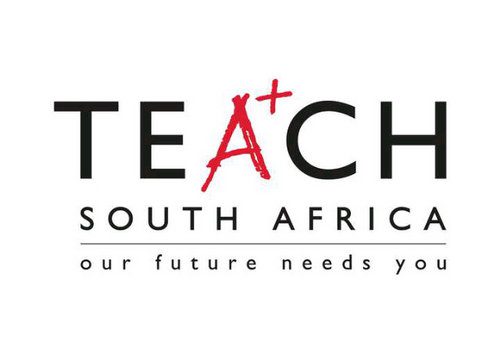 Application Deadline: September 20th 2015
TEACH South Africa seeks to inspire the next generation of learners to overcome their challenges and get the education they deserve. In doing so, TEACH South Africa recruit individuals from all academic backgrounds and career interests who have what it takes to excel as teachers and to ultimately exert broader societal influence in our nation.
TEACH South Africa look for exceptional individuals who have a track record of achievement in school, work, and/or extracurricular activities. TEACH South Africa have discovered over time that these individuals exhibit a significant degree of leadership. Some of these individuals are recognized as role models for communities and teams; others beat the odds by applying their critical thinking skills to achieve the most unlikely results.

Eligibility Requirements:
South African Citizens:
Applicants must hold a university degree and must have done Maths, Physics, Chemistry, English or Technology for a minimum of one year during the course of their degree.
Applicants must have graduated in the last five years or will complete their degree by no later than December this year.
Non – South African citizens:
Must meet the above criteria as well as hold or be able to obtain a valid work permit by December this year.
Please note that TEACH South Africa is NOT accepting applications from Education majors.
Selection Criteria
A record of past achievement: achieving ambitiously, measurable results in academics, leadership, or work experience
Perseverance in the face of challenges and the ability to be resourceful
Strong critical thinking and problem solving skills
The ability to influence and motivate others
Organizational ability: planning well, meeting deadlines and working efficiently
An understanding of our vision and the desire to work relentlessly in pursuit of it
Respect for students and families in low-income communities
Evidence that applicants operate with professionalism and integrity
Successfully pass the cognitive assessment that measures basic reading, writing and comprehension skills
Pass assessment to measure competencies for content area assigned to teach
How to Apply:
Step 1
Applicants must complete the online application (Please note that no paper-based applications will be accepted, all applications must be completed on the website)
The online application consists of the following six sections:
Personal Information
Academic Information (Applicants are not required to submit transcripts by the application deadline)
Leadership and Work Experience Information
References
Written Information (fit with TEACH, and two essays)
Supplemental Information
Step 2
Successful applicants will be invited to attend a day-long interview to be conducted one week in July and one week in October.
Step 3
Successful applicants from the interview day will be invited to take a subject competency assessment in Maths, Science, English or Computer Application Technology.
Additional information:
On the Interview day, you need to bring with you an original and certified copy of your transcripts from the University that will award or has awarded your degree as well as an original and certified copy of your identity document. For non- South African citizens, you are required to bring with you original and certified copies of your passport and work permit if applicable, to be submitted at the beginning on the Interview day.
TEACH Ambassadors are paid directly by the school districts where they work and receive the same salaries and health benefits as other entry-level teachers.
For any enquiries please contact TEACH South Africa at [email protected].
For More Information:
Visit the Official Webpage of the  2016 TEACH South Africa Teaching Programme