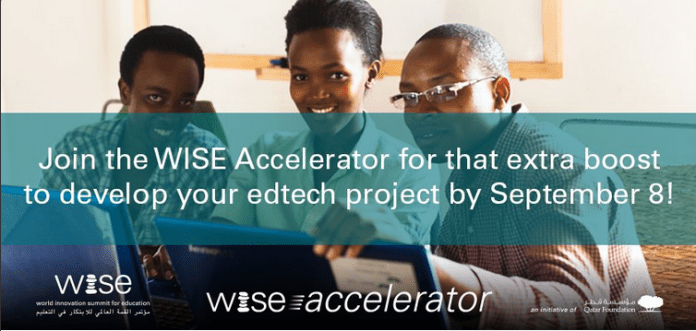 Application Deadline: September 8, 2016 at 12:00h GMT.
The WISE Accelerator is a program designed to support the development of innovative projects in the field of education. It relies on the expertise of qualified mentors and partners to provide projects with effective strategies and concrete support in order to ensure their development.
Each year, five projects are selected to join the program. These projects are followed for one year, during which time they benefit from tailor-made mentorship to address their specific needs. In addition, the WISE Accelerator serves as an intermediary to connect the selected projects to an international network that creates opportunities to share knowledge and find support from donors and investors.
The WISE Accelerator supports innovative projects that have a high potential for:
• scalability;
• positive impact in education.
Projects addressing education challenges through the use and/or design of technology in all sectors and regions are welcome to apply.
Requirements:
Ideal candidates for the WISE Accelerator will be existing projects at an early stage of
development, with the following attributes:
• Established for at least two years;
• A significant and growing number of beneficiaries or customers;
• A record of activity with a product or service that has been successfully implemented and beyond proof of concept;
• Existing, stable revenues, and new opportunities for growth;
• A dedicated team, with an established physical space or office;
• Deep knowledge of the market or educational context and of their beneficiaries' or customers' needs;
• Clear future objectives and motivation to further develop;
• Good understanding of the project's current challenges in scaling.
Structure of the program
The year-long program is designed to assess and suit project needs as precisely as possible in order to bring them to the next stage in their successful development.
Key milestones in the 2016-2017 process are:
Kick-off week of activities
Needs assessment
Tailor-made mentorship
Opportunity to participate in international events
Ongoing communication and international visibility
Pitch with partners, investors and donors
Progress assessment
For More Information: