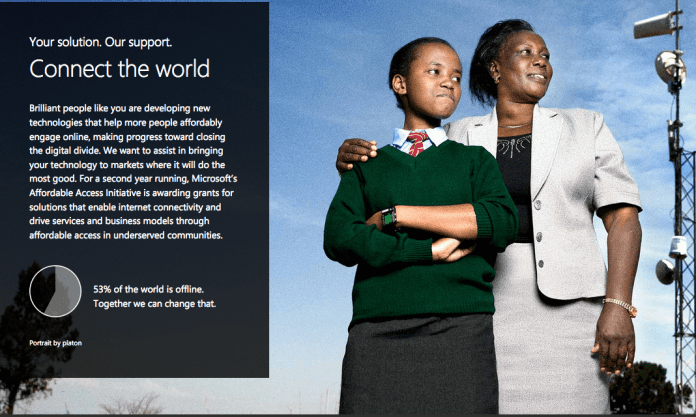 Application Deadline: January 31st 2017
Most of the world is not connected to the internet. Underserved markets, rural areas and economically-disadvantaged communities are least likely to have access to the internet. With advances in the affordable access ecosystem and your solutions, 3.9 billion more people will be empowered to engage in the digital economy.
The Microsoft Affordable Access Initiative Grant Fund seeks to support, grow and scale innovative businesses that are developing technologies and business models that have the potential to help billions more people affordably get online. Areas of interest include last mile access technologies, off-grid renewable energy solutions, and alternative payment mechanisms, as well as verticals such as healthcare, education, and agriculture. We will consider eligible applicants covering these areas and more.
Solution should:
Leverage low-cost forms of last-mile internet connectivity, off-grid energy solutions, and/or alternative payment mechanisms
Demonstrate innovative approaches to utilizing and/or selling cloud services
Applicants must:
Be a commercial organization with two or more full-time employees (we will not accept applications from non-profits, government agencies, or academic institutions)
Have a working solution and paying customers
Demonstrate potential to scale to new markets
Be free of any legal or regulatory encumbrances
Proposals due
Proposals are due by Midnight US Pacific Standard Time January 31, 2017
For More Information:
Visit the Official Webpage of the Microsoft Affordable Access Initiative Grant 2017