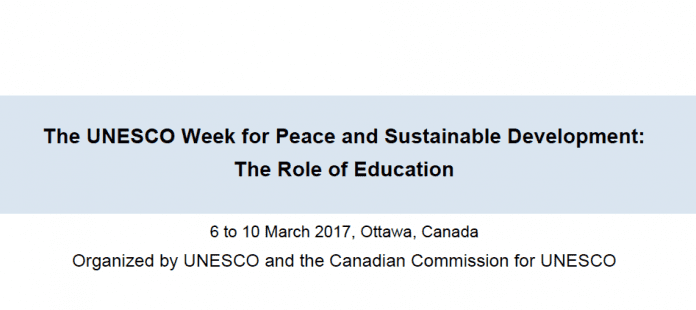 Application Deadline: 6 January 2017.
Education for Sustainable Development (ESD) and Global Citizenship Education (GCED) are two major programmes that contribute to make education relevant to today's global challenges. They aim to ensure that all learners – of all ages – acquire the knowledge, skills and values needed to promote sustainable and peaceful societies.
UNESCO and the Canadian Commission for UNESCO will jointly organize the UNESCO Week for Peace and Sustainable Development: the role of Education, scheduled to take place from 6 to 10 March 2017 in Ottawa, Canada. The Week will present the unique opportunity of bringing together, under one banner, the following two Fora organized back-to-back with sessions open to participants of both Fora:
The Review Forum for the UNESCO Global Action Programme (GAP) on ESD:
Implementation and Innovation, and
The Third UNESCO Forum on Global Citizenship Education (GCED): the Role of Teachers
The Review Forum for the GAP will serve as an important platform to review GAP
implementation since its launch in November 2014 and discuss the way forward for the following years of GAP implementation. The Review Forum will also explore emerging ESD issues, trends and ideas, and highlight innovative approaches.

In order to facilitate the implementation of the GAP at the global level and support the scaling up of ESD actions, UNESCO has set up five Partner Networks of around 80 key ESD stakeholders ('Key Partners'). There is one Partner Network for each of the five Priority Action Areas of the GAP:
i. advancing policy;
ii. transforming learning and training environments;
iii. building capacities of educators and trainers;
iv. empowering and mobilizing youth;
v. accelerating sustainable solutions at local level.
The Key Partners will form the core of the participants of the Review Forum and UNESCO will prepare a GAP progress report as input for the Review Forum.
The Third UNESCO Forum on Global Citizenship Education will draw on the foundational
work of the two GCED held in Bangkok, Thailand (December 2013) and in Paris, France (January 2015), which, at each Forum, gathered over 200 international participants to discuss trends and exchange good practices in GCED.
The Week will also provide an opportunity to showcase Canadian innovation and leadership in the areas of ESD and GCED.
Requirements:
Targeted participants include teachers, teacher educators/trainers; policy makers in the field of teacher training and curriculum development; and representatives of governmental, intergovernmental and non-governmental organizations active in ESD/GCED.
Date and location
The UNESCO Week for Peace and Sustainable Development: the Role of Education will take
place from 6 to 10 March 2017 at the Shaw Centre in Ottawa, Canada.
Participants
Approximately 400 stakeholders from government, non-governmental and private sectors from all continents will be expected to attend the Week.
Participation will be by invitation only.
Working languages
English and French simultaneous interpretation will be provided for the Plenary and Concurrent Sessions.
Partners
The Week is organized by UNESCO and the Canadian Commission for UNESCO, with the
support of other partners
Application Procedure:
UNESCO will review all submissions received considering among other things, the need to ensure geographic and gender balance, before issuing a formal invitation to participants. Please note that UNESCO may not be able to consider positively all expressions of interest. Invited participants are expected to cover their travel expenses. Limited financial resources from UNESCO will only be available for some participants from developing regions.
For more information on the Week including details on the specific features of the various sessions, please refer to the attached Concept Note. Questions can be addressed to [email protected]
Contact information:
Alexander Leicht
Chief of Section
Section of Education for Sustainable Development and Global Citizenship
Division for Inclusion, Peace and Sustainable Development
Education Sector
UNESCO
Email: [email protected]
For More Information:
Visit the Official Webpage of the 2017 UNESCO Week for Peace and Sustainable Development