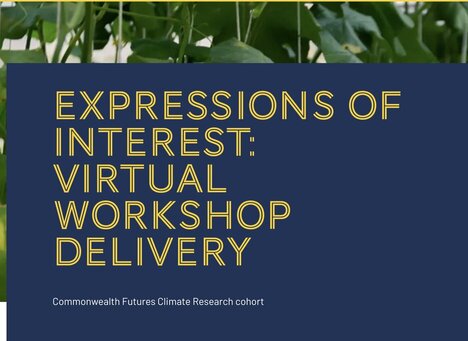 Application Deadline: Friday, April 16th 2021
The ACU and the British Council have partnered to establish the Commonwealth Climate Research cohort – providing a platform for 24-26 rising-star local researchers to bring multidisciplinary knowledge and expertise to a global stage, build international collaborations, and work with experts to influence issues related to climate and environment in their communities and beyond.
The ACU-British Council partnership is seeking proposals from ACU member universities to deliver three virtual training workshops for the cohort.
In the lead-up to COP26, this unique cohort will work together, and alongside experts in the sector, to identify opportunities to engage and influence on issues related to climate and environment.

The three virtual training workshops are a core component of the programme, and focus on the following topics:
Research leadership
Knowledge exchange
Research-to-action
The workshops will equip the cohort with the skills to effectively communicate their research, and design and deliver their own research-to-action project.
To ensure the successful delivery of this component, the ACU is recruiting facilitators to run each of the three workshops.
Funding available
A total of GBP 2,500 (plus VAT if applicable) is available to deliver each workshop.
It is possible that one team could deliver one, two, or all three workshops. If you intend to apply to deliver more than one of the workshops, you must submit an individual application for each one.
​Benefits of delivering the workshops
Delivering the workshops is great opportunity to raise your profile on an international stage, engage with climate researchers in the run up to COP26, facilitate international collaborations, and support the development and retention of research leaders in the sector.
Eligibility, role, and timelines
Eligibility
Applicants must be employed by an ACU member university.
Delivery requirements
The researchers will be based in regions ranging from the Caribbean to the Pacific. It is imperative that facilitators can ensure all members of the cohort are able to participate fully in the workshops, and take into account diverse time zones when preparing the delivery plan.
It may be that you will need to split the workshop into two sessions delivered over two days and run each session twice, in order to accommodate different time zones. Therefore, two days have been allocated to each workshop.
Detailed delivery requirements can be found in the full application guide below.
Timelines
The application deadlines and delivery dates for each workshop are as follows:
| | | |
| --- | --- | --- |
| Workshop | Application deadline | Delivery dates |
| Workshop 1: Research Leadership | Friday, March 19 at 9:00 UTC | April 14-15, 2021 UTC |
| Workshop 2: Knowledge Exchange | Friday, April 2 at 9:00 UTC | May 12-13, 2021 UTC |
| Workshop 3: Research-to-action | Friday, April 16 at 9:00 UTC | June 16-17, 2021 UTC |
How to apply
Applicants must submit a list of documents via email to [email protected] by the dates specified above. Click here to download the full application guide
For More Information:
Visit the Official Webpage of the 2021 ACU Commonwealth Futures Climate Research Cohort