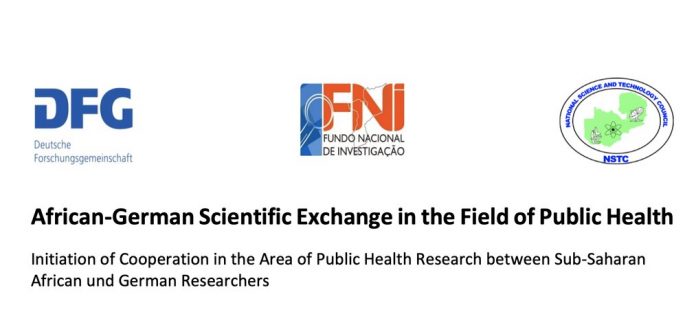 Application Deadline: 28 February 2022.
Initiation of Cooperation in the Area of Public Health Research between Sub-Saharan African und German Researchers. In close collaboration with the Fundo Nacional de Investigação (FNI) of the Republic of Mozambique and the National Science and Technology Council (NSTC) of the Republic of Zambia, the Deutsche Forschungsgemeinschaft (DFG, German Research Foundation) of the Federal Republic of Germany would like to invite researchers to engage in a scientific exchange in the field of public
health.

This initiative covers all research questions that are primarily concerned with population health. Subject areas include public health issues relating to infectious diseases and non-communicable diseases; One Health; availability, quality and utilisation of data for health monitoring and surveillance; mental health; prevention strategies; population movement/migration; health policies.
Aim of the Initiative
The aim of the initiative is for participating researchers to identify joint interests in the area of public health and initiate new collaborative ventures. The partner funding organisations aim to facilitate this exchange by means of the following
measures:
(1) An invitation to submit posters reflecting the participating researchers' expertise, research interests and ideas for collaborative research projects and subsequently to view other participants' posters.
(2) A subsequent call for DFG proposals for funding of the Initiation of International Collaboration.
(3) A Status Workshop in Bonn/Germany to convene all researchers due to receive funding under this call for the Initiation of International Collaboration.

Call for the Initiation of International Collaboration
The call for the Initiation of International Collaboration serves to establish and facilitate collaborative relationships between researchers from Sub-Saharan Africa and Germany. In general, the DFG can only fund bilateral or multilateral Sub-Saharan African/German projects under this initiative. More information regarding the specifics of this call will be provided to the participants of the poster platform in October 2021. For further information on the programme and instructions
for proposal preparation, please refer to the "Guidelines on Proposals for Grants to Support the
Initiation of International Collaboration" (DFG form 1.813). Proposals must be submitted in English by 28 February 2022.

Eligibility:
All proposals must include at least one applicant from Germany and one cooperation partner from Sub-Saharan Africa who have both previously submitted a poster. However, proposals can only be submitted by researchers from Germany.
Scientists from Sub-Saharan Africa act as cooperation partners and can also receive funding. German applicants are therefore required to fulfil the DFG eligibility requirements.
Status Workshop

– Approved travel funds from the funding for the Initiation of International Collaboration must be used to enable Sub-Saharan African project partners to participate in a Status Workshop in Bonn in the week of 27 to 31 March 2023. This workshop will be organised centrally by the DFG with the aim of assessing the need for a possible joint call for project proposals and collect lessons
learnt regarding the frameworks within which such Sub-Saharan African/German collaborations
can evolve.
– Participation in the workshop will be limited to applicants from Germany and their cooperation partners from Sub-Saharan Africa with funding under the Initiation for International Collaboration.
For More Information:
Visit the Official Webpage of the African-German Scientific Exchange for Public Health