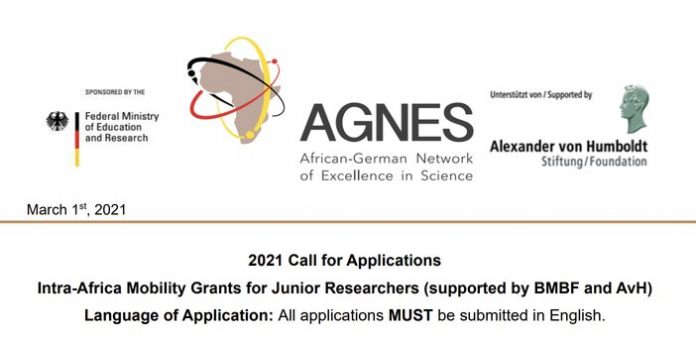 Application Deadline:  30th April, 2021.
The African-German Network of Excellence in Science (AGNES) is pleased to inform you that we have launched the call for applications for the 2021 Intra-Africa Mobility Grants for Junior Researchers (AGNES-PAWS Intra-Africa Mobility Grant for female researchers & AGNES Intra-Africa Mobility Grant for male and female researchers).
he AGNES Intra-Africa Mobility Grant and AGNES-PAWS Intra-Africa Mobility Grant enable junior researchers (Doctoral students) from sub-Saharan African countries to spend research stays of 1-2 months at a university/research institute in another sub-Saharan African country (hereafter referred to host institution), where they will be collaborating with an experienced researcher (hereafter referred to as scientific host).
The proposed research must be part of the work towards the Doctoral research, including but not limited to bench work, laboratory studies, use of library resources and write up of thesis or part of the thesis.

Eligible junior researchers need to demonstrate the relevance of their work for further development of their home countries in sub-Sahara Africa.
Eligibility:
Direct applications from junior researchers only will be considered for both the AGNES Mobility Grant and AGNES-PAWS Mobility Grant. On top of your proposal and in your CV, indicate whether you are applying for the AGNES Mobility Grant or AGNES-PAWS Mobility Grant.
The applicant may be from any academic discipline but must be officially registered for Doctoral degree at a university/tertiary institute in sub-Sahara Africa, and must be a national of a sub-Saharan African country.
Applicants must demonstrate clearly that their work is relevant towards development in sub-Saharan African countries and cannot be conducted in the home country. Only applicants with an identified scientific host and mutually agreed-upon proposal/work schedule will be considered for the Grant.
Benefits
The Grant aims to be as financially comprehensive as is reasonably possible for a short stay outside the borders of the applicant's country, covering travel and subsistence, and includes a research allowance to the host institute on request to cover some of the research expenses. A maximum Grant amount of EUR 2300 and EUR 3000 is earmarked for 1 and 2 months stays, respectively.
For more details please download the application documents
For any question, please, contact:
For More Information:
Visit the Official Webpage of the AGNES Intra-Africa Mobility Scholarships 2021/2022