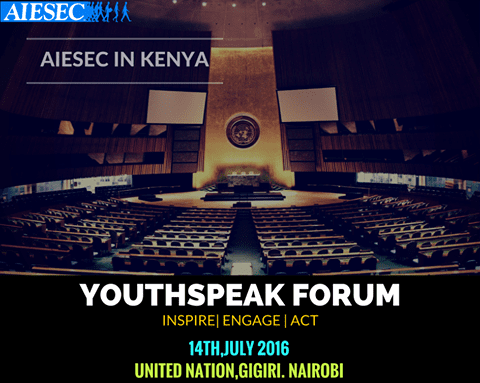 When: 14 &15th of July 2016.
AISEC Kenya would be hosting over 1000 Delegates at the United Nations grounds in Gigiri.
YouthSpeak Forum is an event that takes place in multiple locations around the world; bringing top young leaders together with business leaders, thought leaders, and experts for a conversation around pressing global issues with the aim to generate new, and most importantly, actionable ideas that will impact the world and its future. AISEC KENYA make this happen by taking our participants through our unique interactive framework of Inspire, Engage, Act.
3,500 Kenyan Youth Voices have spoken up! Several issues have been raised, Quality Education topping the list. The YouthSpeak Forum is here for us to address these issues and put an end to them. Join the movement.

Those who are crazy enough to think they can change the world. Are the ones who do.
Apply Now for the AISEC Kenya YOUTH Speak Forum 2016
For More Information:
Visit the Official Webpage of the AISEC Kenya Youth Speak 2016