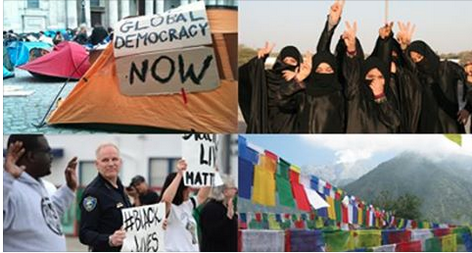 Submission Deadline:Friday 15 April 2016 at midnight GMT
Does your organisation work to build a more just and peaceful world? Does your work help empower and engage citizens to take action on issues that affect us all?
If so, consider entering the CIVICUS "Active Citizens" Photography Competition!
The competition is being held in the run-up to International Civil Society Week 2016 under the banner: "Active Citizens, Accountable Actions".
The competition is open to all Voting and Associate Members of the CIVICUS World Alliance. Voting members (organisations or individual members)  are invited to submit entries relating to the conference's themes of "Active Citizens, Accountable Actions".
Eligibility Requirements
Each member may submit up to 3 photos in total:
There will be a total of three cash prizes: A top prize of $500 (USD), and two runner-up prizes of $250 each.
Prize winners will be selected by a panel of CIVICUS staff. Winning entries will be selected and contestants informed of the panel's decisions by June 2016.
Note: CIVICUS reserves the right to not award prizes if the judges rule that there is no clear winner.
Requirements:
High quality, powerful photos that illustrate effective and inspiring efforts by and for civil society;
Images that illustrate exciting actions that exemplify the theme of "Active Citizens, Accountable Actions";
Photos that tell a story, capture a moment, or represent the successes or challenges of civil society action.
Requirements
Keep in mind that all entries must:
Be the original work of the applicant
Not infringe on the rights of others
Be respectful of the rights, sensitivities, and culture of persons depicted
Give an accurate reflection of the subject matter and scene as it appeared, without alteration (other than standard optimization, including removal of dust, cropping, adjustments to colour and contrast, etc.)
You can read tips about what makes a great photo at the following links:
http://www.betterphoto.com/exploring/tips.asp
http://www.digitalcameraworld.com/2015/12/04/8-ways-to-tell-better-stories-with-your-photography/
https://dailypost.wordpress.com/2014/02/11/photographing-people/
http://lifehacker.com/5814174/basics-of-photography-composition-and-technique
Submission Rules
Entry is limited to original photos to which the applicant (photographer, organisation submitting the photographs, or both) holds all rights.
Each applicant is limited to submitting a total of 3 photos with required descriptive caption for every photograph. (Valid entries require a one line description about the photograph, and the photographer's name, if the photographer is to be credited).
File size: Up to 2 MB per photo
File format: JPEG/300dpi (Winners may be requested to provide higher resolution images for publication or display purposes.)
Download Contest Application Form
For More Information:
Visit the Official Webpage of the CIVICUS "Active Citizens" Photography Competition 2016