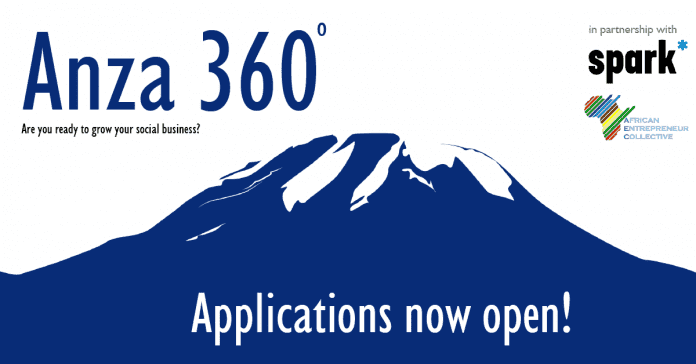 September 15, 2016
October 1, 2016 – September 30, 2017
In partnership with African Entrepreneur Collective, Anza 360° provides high-impact social businesses with 12 months of full-scale business acceleration services.  All Anza 360° business are contributing to the achievement of at least one of the UN Sustainable Development Goals.
Requirements:
Your business directly or indirectly solves a social, economic or environmental problem in Tanzania e.g. making affordable health care available to all, sourcing exclusively from small hold farmers, providing solar alternatives in rural areas.
You have a track record of success (more than just an idea).
Your business can be scaled up and has the potential to be financially sustainable.
Anza 360° entrepreneurs can access all of the standard services PLUS one of the additional "Premium" Services for a full year.
STANDARD

Bankable Business Plan
Strategic Consulting
International Professionals
Single & Multi Day Business Training
Loan Fund Eligibility*
Additional Support Services
PREMIUM
Brand and Website Design
In-Depth Finance and Accounting Support
HR & Management Systems
Business Process Improvements
Investment Advisory
Apply Now for the Anza 360° One Year Accelerator for Social Entrepreneurs in Tanzania
For More Information:
Visit the Official Webpage of the Anza 360° One Year Accelerator for Social Entrepreneurs in Tanzania