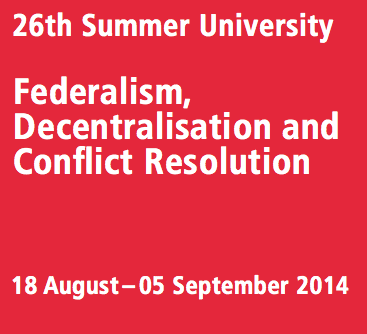 Application Deadline: March 31st 2014
What: 26th Summer University Federalism, Decentralisation and Conflict Resolution
When: 18 August– 05 September 2014
Where:  University of Fribourg, Perolles II, Fribourg, Switzerland
The Summer University enables students to enhance their knowledge about power sharing (e.g. Federalism and Decentralisation), especially its chances and limits in relation to conflict resolution.
Each year, arround 40 persons from all over the world take part in our Programme, over the last 25 years, more than 1000 participants attended the Summer University.
For Whom:
The Summer University is aimed at advanced students (completed BA) of law, political science, economics, journalism or other related sciences and young professionals keen to improve their knowledge of federalism, decentralisation and conflict resolution.
A good knowledge of English and a strong interest in the topics of federalism, decentralisation and conflict resolution are preconditions for applying.
Certificates:
Upon successful completion of the course (paper and commentary, active participation, compulsory attendance and exams), participants will be awarded a diploma by the Institute of Federalism and the University of Fribourg as well as ECTS conferred by the University of Fribourg.

Costs/Scholarship Worth:
For participants coming from countries in Africa, Latin America, Asia and Eastern Europe (Romania, Bulgaria, Croatia and the non-EU countries) the Institute of Federalism can offer the course free of charge, due to a programme contribution from the Swiss Agency for Development and Cooperation (SDC).
The covered costs include
Tuition,
course materials,
accommodation with half board,
excursions and the farewell dinner.
Application Timeline:
Application deadline: 31 March 2014
Confirmation of participation: 16 April 2014
Deadline for paper submission: 16 June 2014
Deadline for paper commentary: 07 July 2014
Summer University: 18 August – 05 September 2014
Apply Now for the 26th Summer University Federalism, Decentralisation and Conflict Resolution
For More Information:
Visit the Official Webpage of the summer school on federalism and Conflict Resolution in Switzerland.