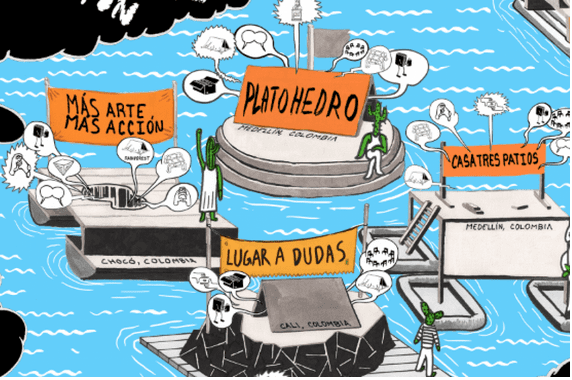 Application Deadline: 31st July, 2017
This residency is exclusively for resident citizens from the Arts Collaboratory countries in Africa, Asia, and the Middle East. It welcomes proposals from diverse cultural agents, artists, writers, researchers, curators, and others interested in creative projects, research, and collaboration within the context of the four AC organizations in Colombia (Lugar a Dudas in Cali, Más Arte Más Acción in el Chocó, Casa Tres Patios and Platohedro in Medellín). Applications for the residency can include stays in a maximum of 2 of the organizations above.
The residency is based on a desire to promote knowledge exchange, the melding of social and cultural contexts, dialog, experimentation and the intersection of disciplines in order to generate collaborative processes in the host spaces. The residencies are open to diverse practices, offer a range of opportunities and seek processes that involve creative risk taking, which can expand the limits of the participant's experiences.
Applicants should be willing to engage in the host organization's programs and documentation processes, which will be shared via the different Arts Collaboratory platforms and will serve as a basis for the development of pedagogical tools and for the presentation of the results of the residency. Upon returning to their country the resident commits to sharing their experience and knowledge with their community.

When:
The residencies can extend from 6 to 8 weeks between 1st February and 30th June 2018.
Benefits:
The residency includes:
– Airplane tickets, health insurance, visa.
– Logistical advice
– Lodging
– Per diem
– Production cost up to COP $3,500,000 (approx €1000)
– Artist Fee COP $3,000,000 (approx €900)
Timeline:
Deadline for applications: 31st July, 2017
Evaluation: 1st August to 30th September, 2017
Selected Artists Announced: 15th October, 2017
6-8 week residencies to take place between 1st February and 30th June 2018
How to apply:
Please download the form, complete the  questions and send it in a PDF file to [email protected] before 31st July, 2017
For More Information:

Visit the Official Webpage of the Arts Collaboratory Residency 2018