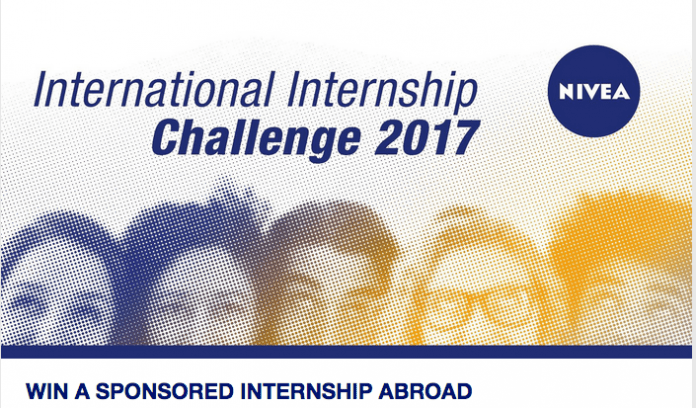 Application Deadline: July 15th 2017
Would you like to gain valuable experience with international brands like NIVEA, Eucerin, and Hansaplast?
Once a year, the Beiersdorf International Internship Challenge is hosted at theBeiersdorf Corporate Headquarters in Hamburg, Germany. Beiersdorf invite 32 top international students to compete for four fully-funded international internships. Are you up for the challenge?
Requirements:

In your planned internship period (end of 2017/2018) you are enrolled in a university program in business administration/engineering, or you already hold a Bachelor's degree and are about to start your Master's (gap year).
You have a focus on one of these areas: marketing/sales, digital marketing/e-commerce, finance/controlling, or supply chain management.
You have gained work experience through internships.
You feel at ease in an international environment and have the courage to step off the beaten track.
You have strong teamwork/communication skills and can work independently, with a high level of dedication.
You have excellent analytical skills and no trouble to communicate fluently in English.
Benefits:
 You will be able to show us your abilities across a variety of activities in the 2-day-event.
The four strongest applicants will win a fully-funded international internship at one of our 150 subsidiaries across the globe or at our Corporate Headquarters in Germany. We'll decide jointly with the winners where to go.
Just imagine, you could spend three months in 2018 with the marketing department in Bangkok, at the production site in Chile or with the controlling team in the USA.
During your two-day visit you'll not only find out how we come up with innovative skincare products and strong brands like NIVEA, Eucerin and Hansaplast but you will also witness the interaction between different departments such as research and development, marketing, finance and supply chain management.
You'll be introduced to employees from a wide variety of disciplines and work jointly with other applicants on FMCG case studies in our skincare segment.
Available Positions: