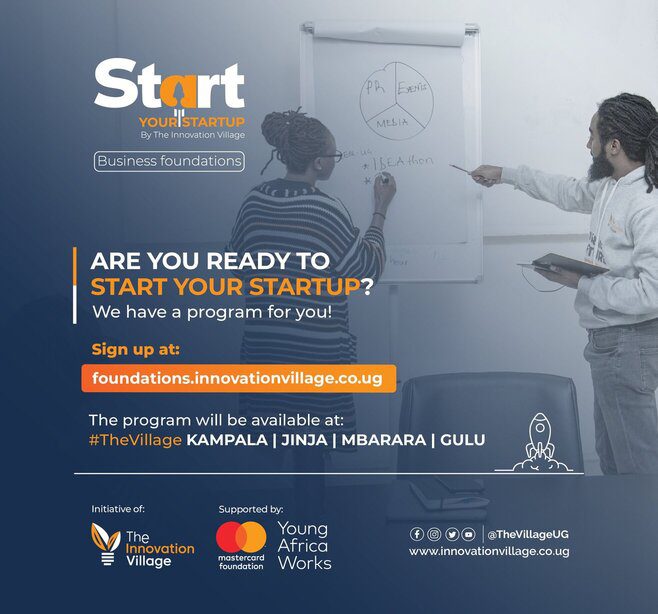 Business Foundations – Start Your Startup program gives foundational knowledge, skills, and tools required for an entrepreneur to start their business, and grow the chances of survival for their very early startup.
The program is an initiative of The Innovation Village supported by Mastercard Foundation under their Young Africa Works strategy to create 3 million jobs in Uganda.
Program Focus Areas
The 'Start Your Startup' program covers the following:
Introduction to Uganda Entrepreneurship landscape
Getting Startup Ideas
Evaluating Startup Ideas
Business Model Canvas
Mistakes Founders Make
Resources for Starting Your Business
Considerations for having co-founders
Eligibility Criteria
Youth who want solutions to the following questions:

What does it take to start my own business?
How do I learn the fundamentals of entrepreneurship?
How do I start my small business?
How do I turn my idea into a business?
How do I increase the chances of succeeding with my small business?
Benefits
As you start out on your entrepreneurship journey, there is no need to go through extra than necessary by trying to 'reinvent the wheel' where best practice can be quickly learnt and adopted.
Grow your chance of succeeding with your idea or startup by getting to know the business foundation essential presented in our "Start Your Startup' program.
Program Delivery
24 – 25 February 2021 – TIV Kampala (Ntinda)
26 – 27 February 2021 – MoTIV Makerspace Kampala (Bugolobi)
01 – 02 March 2021 – TIV Jinja
04 – 05 March 2021 – TIV Gulu
10 – 11 March 2021 – TIV Mbarara
For More Information:
Visit the Official Webpage of the Business Foundations – Start Your Startup program