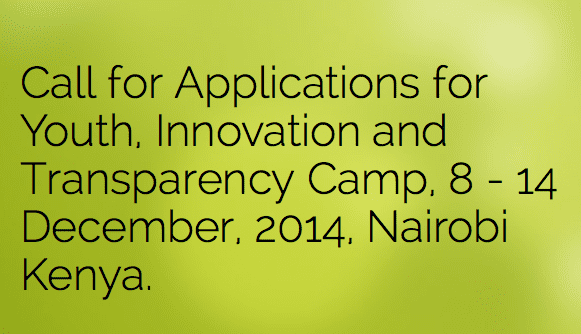 Application Deadline: November 30 2014
When:8 – 14 December, 2014,
Where: Nairobi Kenya.
United Nations Development Programme (UNDP) in partnership with Infonet Africa, Transparency International and the Presidency Republic of Kenya is calling for applications for the 2014 Africa Youth Integrity Camp. The theme this year will focus on enhancing accountability in public service through Innovation and Integrity.
Requirements:
The focus is thus on Young people between the ages of 25 to 35 working within the following specific sectors:
public sectors (including youths in every ministerial department and electoral management bodies),
private sector and civil society organizations and the media. only successful candidates will be contacted and invited for the Youth Camp scheduled for from 8 to 14 December 2014 in Nairobi, Kenya.
The deadline for submission of applications is November 30,
For More Information:

Visit the Official Webpage of the 2014 Africa Youth Integrity Camp