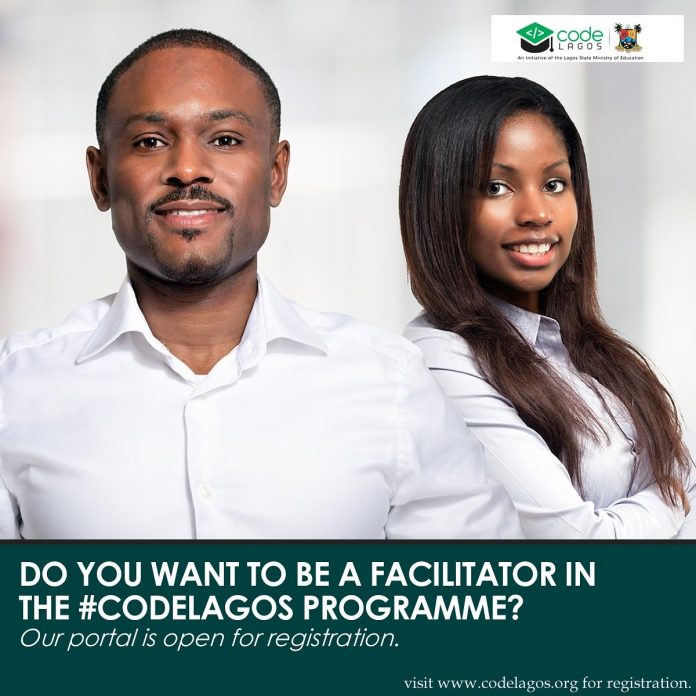 CodeLagos is an initiative of the Lagos State Ministry of Education aimed at making coding education framework accessible to every student in Lagos State.
CodeLagos are looking to hire trainers that will help teach coding at primary, secondary and tertiary levels. Previous programming or technology knowledge won't be a barrier! Almost any dedicated person can be a CodeLagos Trainer.
 Why Teach Code?

As Lagos strive towards an economy in which technology is leveraged to enhance the lives and promote the livelihoods of Lagos State residents, it is important to prepare our citizenry to meet new workforce demands, harness the benefits of technology, and communicate in the language of the future.

Models:
To actualize this vision, CodeLagos will employ a multiple-pronged approach, deploying coding education framework across various platforms, including:
Primary & Secondary Schools – Public/Private
TertiaryInstitutions
Public & Private Libraries
Public Spaces e.g Community Centers
Online
Coding Education Framework
The Lagos State Ministry of Education, in partnership with the Ministry of Science and Technology, has launched the first state-sanctioned computer programming education framework with clearly stated learning outcomes.
The new coding education framework will provide basic- to proficiency-level competence in Computer Science, Information technology and digital literacy.
Schools
Classes will be set up at Primary, Secondary and Tertiary Institutions. These centers will be facilitated by experienced tutors to deliver the coding education framework in a regular schedule each academic session.
Call for Facilitators:
With the roll out of CodeLagos only a few months away, the Lagos State Ministry of Education on Tuesday announced the commencement of the screening and selection exercise for facilitators for the programme.
In April 2017, three hundred (300) Coding Centers across six (6) Education Districts in Lagos State will be commissioned, marking the beginning of the CodeLagos after-school programme in both public and private schools – primary, secondary & tertiary. Centers will also be set up at State public libraries and other community spaces.
Term of Engagement:
As a CodeLagos facilitator, you will be contracted on a PART-TIME basis to teach in an after-school program
This role will require you to commit to between 60hrs – 80hrs a month.
Facilitators may expect to receive a monthly allowance of between N15,000 – N25,000 depending on the number of work hours  completed each month.
Facilitators must commit to being at their designated Centers on schedule on the days assigned. CodeLagos will make every effort to place facilitators within proximity of their location of residence.
I understand that the CodeLagos Facilitator position is NOT a full-time role and DOES NOT make me an employee of Lagos State
Apply Now to become a facilitator for the CodeLagos Programme
For More Information: