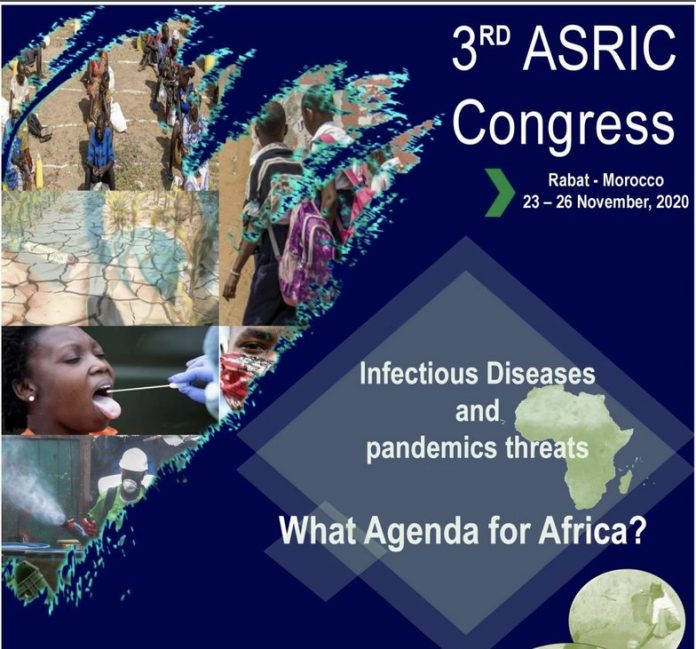 Application Deadline: June 5th 2020
Call for Papers towards the 3rd Annual Congress of the African Scientific Research and Innovation Council (ASRIC) scheduled to take place at the Hassan II Academie des Sciences, Rabat, Morocco from 23rd-26th November, 2020.
The initial theme of this year's Congress was: Water and Food Security – What Agenda for Africa? However due to the serious situation caused by the COVID-19 and its drastic effects on health, living and economy of various AU Member States, the ASRIC Bureau members and Hassan II Academy have partnered together to dedicate this event to Infectious Diseases and Pandemics Threats – What Agenda for Africa?
The ultimate Goal of the Congress is to launch a Call for action towards African leaders, Partners and Researchers and Health professionals aiming at:

(i) Strengthening Africa health system and its Scientific and technological research and Innovation System.
(ii) An alternative model for socioeconomic development and resilience.
(iii) Reversing the brain drain to support Africa development.
(iv) Valuing Africa resources and related potential for national and regional development.
The Congress Organizing Committee announces an Open Call for papers to be presented at the 3rd ASRIC Congress. Interested scientists are to submit an abstract of their original work under any of the underlisted Congress sub-themes by 5th June, 2020.
Benefits
Authors whose papers are accepted by the Congress Organizing Committee would be sponsored to attend the Congress to present their papers.
Please note the important deadlines for submission of Abstracts as instructed. For further communication in this regard, kindly contact the Organizing Committee via [email protected]; Cc [email protected]<mailto:[email protected]>.
For More Information:
Visit the Official Webpage of the Call for Papers: 3rd Annual Congress of the African Scientific Research and Innovation Council