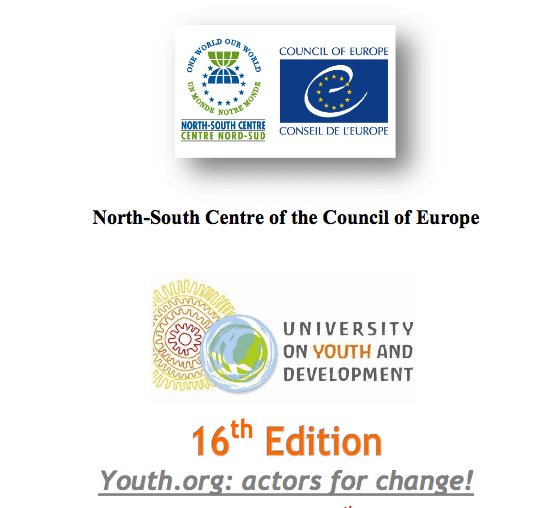 Application Deadline: 12th March 2015
The
 University on Youth and Development
is an activity organised by the North-South Centre of the Council of Europe (NSC) in partnership with the
Spanish Government (INJUVE), the European Youth Forum (YFJ),
the Spanish Youth Council
(CJE), the
Latin American Youth Forum
(FLAJ) and other
international youth organisations
and youth serving organisations.
Since its first edition in 2000, the University takes place once a year bringing together representatives of youth organisations and youth movements from all over the world who gather in CEULAJ (Euro-Latin-American Youth Centre) to discuss, train and be trained as wellas to take political action around the main issues on the global agenda.
In 2015, the University on Youth and Development will celebrate its 16th edition, under the joint theme "Youth.org: Actors for Change!" and renewed hopes and aspirations, objectives and challenges are shared between partners to reinforce this space as the home of the Global Education and of the Global Youth Movement
The overall objectives of the University on Youth and Development are to promote youth work development and youth participation as well as political mainstreaming of the youth related issues and youth policy development; to reinforce capacity-building of civil society organisations; to foster youth co-operation and Global Youth Work; and to promote human rights, intercultural dialogue and democratic citizenship as essential dimensions of global education.
Form and deadline
The enclosed form, proposing an activity to be held at the
16th University on Youth and Development,
should be returned to the
North-South Centre
by email, by 12th March 2015 to
[email protected]
.-
Criteria for selection of proposals :
Organised by youth and youth serving organisations and having young people as target group (age between 18-35);
have a theme and aims to constitute a relevant contribution to the aims of the University, (activities related to capacity building and youth empowerment);
have a Global or Interregional scope (i.e. Euro-Mediterranean, Afro-Asian, Euro-African,etc.), both in terms of the participants and the content. The University partners will particularly value activities involving non-European participants;
Involve a maximum of 25 participants (including team);
Seek gender balance in terms of the participants;
Connection with joint theme "Youth.org: actors for change!" is an asset;
commitment with Global Education and Non- Formal Education principles and values;
Commitment of the partner towards the Joint Programme of the University.
Activities organised in partnership between various organisations and resulting in partnerships and co-operation processes are highly encouraged. The University itself is a result of these kinds of synergies.
What is covered?
Rooms and facilities for the activities
Basic equipment and materials
Interpretation: English and Spanish for plenary sessions of the Joint Programme
Insurance for all participants during their journey and stay in UYD
Partners' commitments and responsibilities towards the University
The UYD is organised around the principle of economy of scale which reduces the overall cost by doing things together. This principle also means that all partners are asked to contribute for the collective costs of the University respective to the asymmetric financial capacities of each of the partners and relative to the size of the activities.
A minimum contribution of 500€ and a maximum of 3.500€ is the foreseen contribution from each of the activities/partners.
The partners decide together where these contributions are used (transfers, joint programme, expenses related with guests).
Each partner is equally responsible for the board and lodging and travel costs of the participants involved in its respective activity (close travel terminals: Airport of Malaga-AGP and the train station of Antequera-Santa Ana).

A special fee of 30€ (per person, per day) will be charged by CEULAJ/INJUVE for board and lodging. Each

partner is responsible for covering these costs related with its group. The fee includes accommodation, meals (breakfast, lunch, dinner and two coffee-breaks) and access to all sports facilities.

Each partner will, at a later stage, proceed with reservation form with CEULAJ and deal directly with the youth centre for invoice/payment.
For More Information: