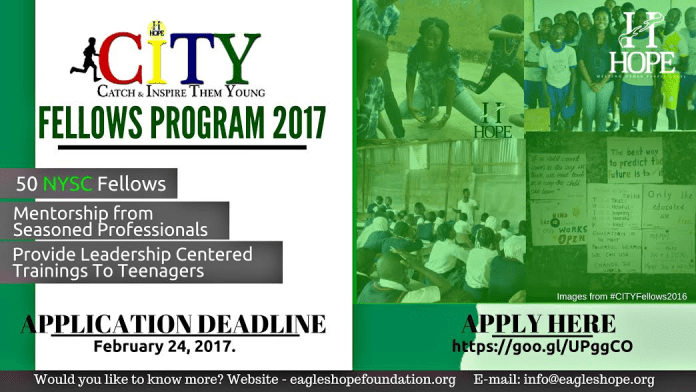 Application Deadline: February 24th 2017
Applications are now open for the CITY Fellows Program 2017 for NYSC Corp Members!
Did you know that over 50% of our population is under 18 years of age? Wow!
This means if we can correctly mold the present day teenager, then we can secure a future we would all be proud of. C.I.T.Y. seeks the hearts and hands of those willing to commit to a training schedule, providing leadership centered training to teenagers in secondary schools while engaging in self-development training and mentor-ship opportunities. This amazing opportunity is is only available for 50 lucky youth corps members and is not limited to any state in the country. How amazing is that!
BASIC REQUIREMENTS FOR FELLOW ELIGIBILITY
Must be a current serving NYSC member (between January 2017 and December 2017).
Must be passionate about community service, national development and impacting positive change in the lives of people.
BENEFITS OF BEING A FELLOW
Certificate of Leadership from H.O.P.E. Foundation.
Training and development sessions and courses.
Mentorship Sessions from seasoned professionals.
For More Information: