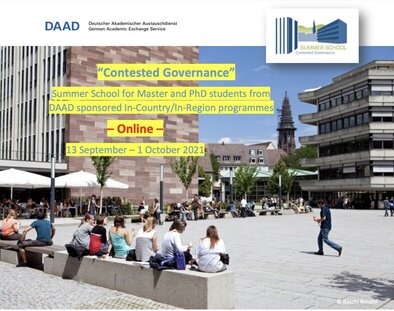 Application Deadline: 28 March 2021, 23:59 German time (CEST). 
Supported by the German Academic Exchange Service (DAAD), the Arnold Bergstraesser Institute Freiburg will organise its third "Contested Governance" Summer School from 13 September – 1 October 2021. Due to the COVID-19 pandemic, this summer school will be offered online.
The German Academic Exchange Service (DAAD), with financial support provided by the Federal Ministry for Economic Cooperation and Development (BMZ), supports academic qualification measures for individuals from developing countries who participate in the In Country / In-Region Programme. Every year, the DAAD awards more than 1,000 BMZ-funded scholarships to junior researchers from Africa, the Middle East, Latin America, South East Asia and South Asia to help finance their Master or PhD programmes in their home country or region.
The programme aims to enable trained professionals to address and deal with diverse societal, economic and ecological issues in developing countries. A further objective is to sustainably improve the teaching and research conditions in the partner regions and to strengthen their higher education profile.

As an additional offer for scholarship holders of the In-Country / In-Region Programme, the DAAD cooperates with German universities in organising a range of summer schools in Germany. Besides the offer described in this call for applications, these DAAD supported summer schools are organised by universities and research institutes in Cologne, Frankfurt, Hamburg, Heidelberg and Leipzig – all with different thematic foci.
These summer schools give the participating students and young researchers an opportunity to take part in a high-class academic training and meet and exchange with peers from across the world. Due to the global
COVID-19 pandemic, the summer school 2021 will be held online.
Eligibility criteria & provisions

The "Contested Governance" Summer School is exclusively offered to current DAAD InCountry/In-Region scholarship holders (Master or PhD students) in countries of the Global South who have a primary qualification (at least a Bachelor's degree) in political sciences or other social sciences. The maximum number of participants in this summer school is 28.

In order to apply, you have to be an active scholarship holder of the DAAD's In-Country / InRegion scholarship programme, as of 1 January 2021 (if your scholarship has expired before or starts after that date, participation is not possible).

Applicants will need to have English proficiency, as the language of communication in all summer schools will be English. If you are not sure about your level of fluency and/or the suitability of your documents, please contact the coordinators at the Arnold Bergstresser Institute (contact details on the last page of this call for applications).

Kindly note that applying for and attending one of the summer schools must not compromise your regular study programme commitments or duration. This should be considered especially by those applicants that have reached the final year of their scholarship.
Attending a summer school will not be accepted as justification for extension of your current In-Country/ In-Region scholarship.

You may submit an application for up to two summer schools in 2021. However, participation will be possible in only one of them.

Please mind that participation is possible only once: If you have joined one of the In-Country/ In-Region programme's summer schools in the last years, it will not be possible to participate again in 2021.

The programme aims to achieve a fair gender balance amongst the participants. Further, it is foreseen that the group represents a balance of Master students and PhD candidates.
Application procedure
Interested students who fulfil the eligibility criteria (see p. 2) should upload their application documents [consisting of (a) an updated CV, (b) a letter of motivation (max. 2 pages), (c) a recommendation letter from a university professor and (d) a transcript of hitherto study achievements (grades)] on the summer school website www.freiburg-summerschool.de until 28 March 2021, 23:59 CEST.
Any application submitted after this due date as well as incomplete submissions will not be considered.

Pre-selection of short-listed candidates will be based on academic merit and the suitability of the candidate's study specialisation to the overall summer school programme.

Short-listed candidates will be invited for a personal selection talk via Skype of ca. 15 minutes by mid-April 2021 (exact date upon individual agreement).
For More Information:
Visit the Official Webpage of the DAAD/ABI Freiburg Contested Governance Summer School 2021