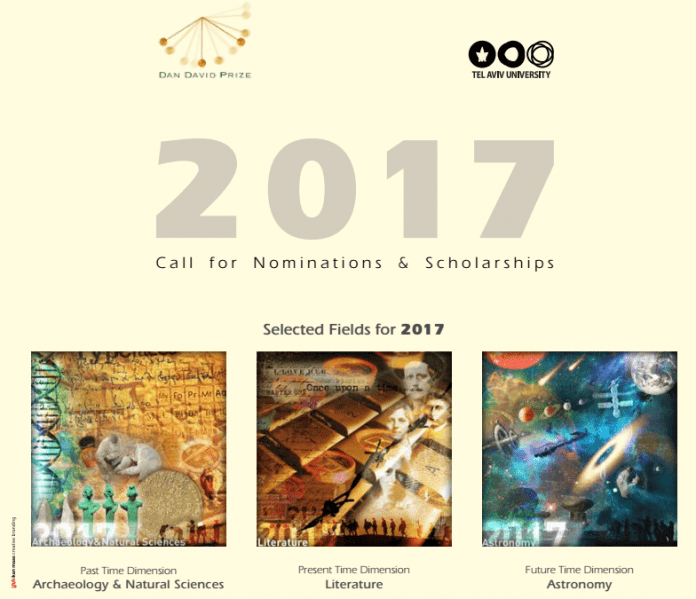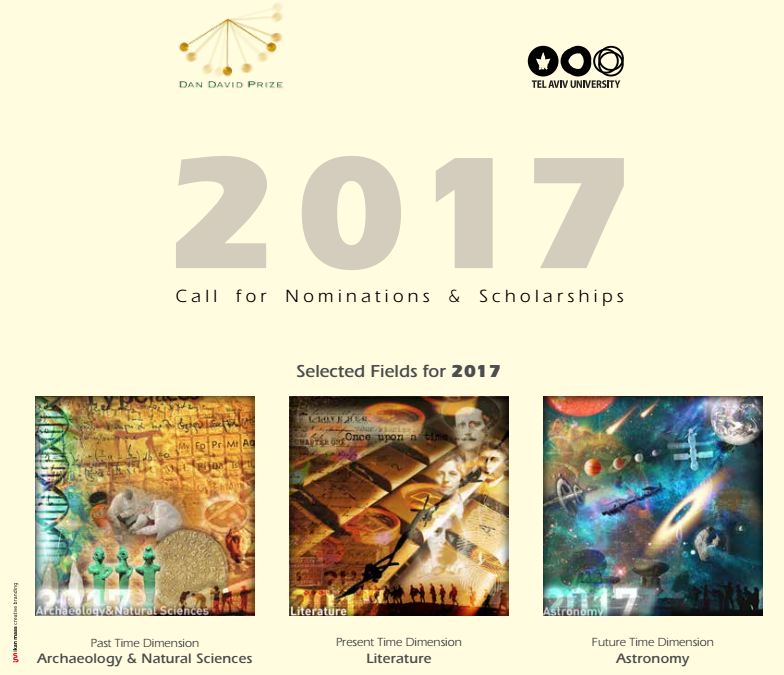 Application Deadline:
Call for Prize Nomination 2017  Deadline: November 30th 2016
Call for Scholarship Applications 2017 Deadline: March 10th 2017
The Dan David Prize recognizes and encourages innovative and interdisciplinary research that cuts across traditional boundaries and paradigms. It aims to foster universal values of excellence, creativity, justice, democracy and progress and to promote the scientific, technological and humanistic achievements that advance and improve our world.
The Dan David Prize covers three time dimensions – Past, Present and Future – that represent realms of human achievement. Each year the International Board chooses one field within each time dimension. Following a review process by independent Review Commitees comprised of renowned scholars and professionals, the International Board then chooses the laureates for each field.

The Past refers to fields that expand knowledge of former times.
The Present recognizes achievements that shape and enrich society today.
The Future focuses on breakthroughs that hold great promise for improvement of our world.
Dan David Prize Call for Nominations 2017
Three prizes of US$ 1,000,000 each are awarded annually in fields chosen within the three time dimensions – Past, Present and Future.
The Dan David Prize is a joint international enterprise endowed by the Dan David Foundation and headquartered at Tel Aviv University.
Three prizes of one million US dollars each are granted annually in the fields chosen for the three time dimensions.
The prizes are granted to individuals or institutions with proven, exceptional, distinct excellence in the sciences, arts, humanities, public service and business, that have made and continue to make an outstanding contribution to humanity on the basis of merit, without discrimination of gender, race, religion, nationality, or political affiliation.
Dan David Prize Scholarships 2017
Ten percent of the prize is donated by the laureates as scholarships to outstanding young 17 researchers, doctoral and postdoctoral students, studying topics related to the chosen fields.
Each year the Dan David Prize awards 20 scholarships of US$15,000 each to outstanding doctoral students and postdoctoral researchers.
10 scholarships are awarded to students from universities all over the world and 10 scholarships to students from Tel Aviv University.
Advanced doctoral and postdoctoral students of excellent achievements and promise studying topics related to the fields chosen for this year, are invited to apply for the Dan David Prize Scholarships 2017.
For More Information:
Visit the Official Webpage of the Dan David Prize/Scholarships 2017