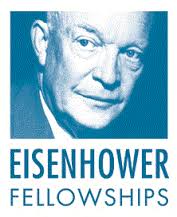 Application Deadline: May 25, 2016
When: APRIL 2 – MAY 19, 2017
Eisenhower Fellows are exceptional leaders in their countries, representing a diverse mix of private, public and NGO sectors. Although diverse in background and interests, each of them has demonstrated leadership ability and a commitment to better their communities and advance their professional disciplines as a result of the fellowship. Eisenhower Fellows are mid-career professionals, typically 32 to 45 years old.
Although part of a cohort of approximately 25 people, each Fellow travels independently around the United States following an individualized itinerary, meeting with relevant experts, professionals and leaders to help them identify and take steps to implement concrete ways in which they can increase their impact once they return home

The Multi-Nation Program (MNP) dates back to 1954. At that time, Fellows came to the United States for almost a year. Today, the MNP provides an intensive seven-week fellowship experience each spring for individuals from approximately 20 – 25 countries.  The MNP will take place APRIL 2 – MAY 19, 2017.
Selection Criteria
Eisenhower Fellowships seeks a diverse mix of applicants, ages 32-45, from a wide range of professional sectors.
EF provides a unique leadership development opportunity for individuals who have a demonstrated track record of significant professional and community achievements and who seek to tackle big challenges in the future.
Competitive candidates articulate goals for the fellowship program and propose steps to achieve them.
EF seeks ascendant leaders who are committed to making the world more peaceful, prosperous and just, and who are committed to a lifelong engagement with EF's network of nearly 1,500 active leaders around the world.
Eligible Countries:
Argentina,India,Peru,Australia
Indonesia,Rwanda, Brazil
Israel,Sri Lanka,China (Taiwan)
Kenya, Sweden, China
Korea,Tanzania, Colombia
Malaysia,Turkey,Finland,Mexico,Vietnam,Germany
Nigeria,Ghana, Pakistan
* There will be a few Fellowships available for countries not listed above who might be interested in participating. Please note that this will be a highly competitive process.
Timeline:
May 25, 2016:Deadline to Submit Application Materials
July 1, 2016:Nominating Committees Submit Finalists to EF
September 1, 2016:Candidates Notified of Results
April 2- May 19, 2017: MNP Program takes place in the United States
E-Mail: [email protected].
Apply Now for the Eisenhower Fellowship Multi-Nation Program (MNP) 2017
For More Information:
Visit the Official Webpage of the Eisenhower Fellowship Multi-Nation Program (MNP) 2017