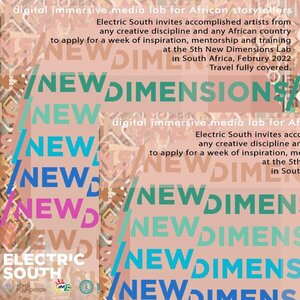 Application Deadline: 4 October 2021
Now in its 5th edition, the New Dimensions Lab brings together diverse African artists to develop stories told through creative technology alongside leading industry mentors.
The Lab takes place over the course of a week at a private retreat where artists engage in discussions and masterclasses, and workshop their creative projects. As a result of the ongoing Coronavirus Covid-19 travel restrictions, the Lab will take on a hybrid format giving applicants who are unable to travel an opportunity to virtually immerse themselves. 12 physical and 6 virtual applicants will be selected to participate.
Electric South will commission and finance at least three works developed at the 5th New Dimensions Lab.
Past mentors have included Darren Emerson (VR City), Eden Labs, Jessica Brillhart (Google, Vrai Pictures), Jim Chuchu (The Nest Collective), Kamal Sinclair (Sundance New Frontier), Lauren Beukes (Writer), Oscar Raby (VRTOV), Sara Ellis (Royal Shakespeare Company), Saschka Unseld (The Blue Umbrella), Selly Raby Kane, and Yasmin Elayat (Scatter).
The 5th New Dimensions Lab is proudly presented by Electric South and supported by the Ford Foundation, the National Film and Video Foundation and the Bertha Foundation. 
Eligibility Requirements
Electric South fully covers travel, accommodation and meals for participants.
Applicants must be:
Citizens or permanent residents of an African country
Currently living on the African continent (at least 8 months a year)
Accomplished in an artistic field. Any creative discipline is welcome. Past applicants have experience in: documentary and fiction film, theatre, performance & visual arts, fashion, photography, writing, design, creative technology and game development.
Projects ideas must:
Be non-fiction stories. Dimension Lab welcome creative interpretation of documentaries and fiction/documentary hybrids.
Use immersive technologies, such as Virtual Reality (VR) or Augmented Reality (AR). This could include 360 film, interactive worlds, animation, artificial intelligence, projection mapping, hybrid forms, and beyond.
Timeline:
The last day to submit is 4 October 2021.
All successful applicants will be notified by 25 October 2021.
The Lab will run from 26 February – 6 March 2022 in South Africa.
For More Information:
Visit the Official Webpage of the Electric South New Dimensions Lab 2021