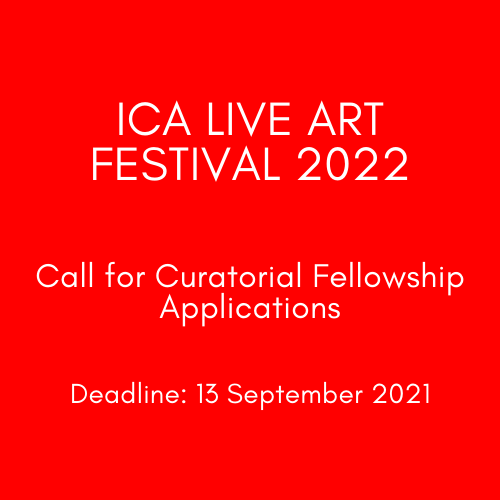 Application Deadline: 13 September 2021
The Institute for Creative Arts (ICA) at the University of Cape Town (UCT) invites applications for two curatorial fellowships in live art. The curatorial fellowships entail research, dialogue with artists, an exploration of installation spaces and the acquisition of works leading towards staging the ICA Live Art Festival in and around the city of Cape Town in March 2022. The fellowships will provide the successful candidates with the opportunity to engage with UCT's research community, work closely with Live Art archives at the ICA, work alongside the Research, Technical and Production staff at the ICA, and be mentored by Professor Jay Pather.
The ICA's flagship Live Art Festival (LAF) is a biennial interdisciplinary festival, which began in 2012. It is designed to challenge and extend the public's experience of live art in a non-commercial environment and make accessible the work of visual and performing artists who explore new forms, break boundaries, flout aesthetic conventions, tackle controversy, confront audiences and experiment with perceptions
Each fellow will play a critical role in a different phase of the planning and implementation process of the festival alongside Pather's direction.
Fellowship 1: Research of artists and thematics on the African continent and diaspora, with a focus on South Africa, to inform the curation of the Festival programme.
Time period: Part time, flexible, October – December 2021.
Preferably Cape Town-based but could also be managed online.
Fellowship 2: Contribute to realising the curatorial vision of the Festival. Engagement with selected artists. On-site, hands-on installation of artworks.
Time Period: Part time, flexible. December 2021 – March 2022 (times to be finalised by the Fellow in consultation with Pather).
Must be based in Cape Town for most of this period.
The fellowship is worth R50 000 per Fellow and is open to artists and academics from all disciplines who meet the following requirements:
Hold a postgraduate qualification, at least an Honours or other 4 year tertiary qualification.
Minimum of 3 years' experience in curatorship.
Proficiency in research methodology.
Is a resident of South Africa.
For More Information:
Visit the Official Webpage of the Institute for Creative Arts (ICA) Curational Fellowship