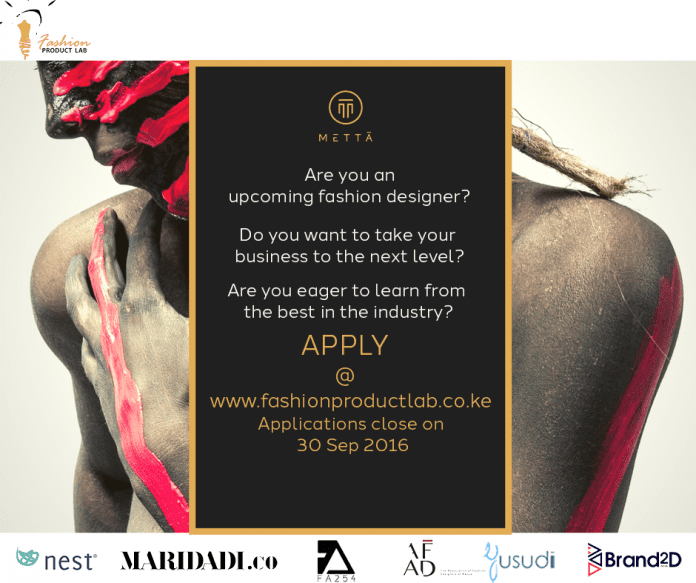 Application Deadline: September 30th 2016
Fashion Product Lab is a programme designed to help fashion-focused entrepreneurs launch their brands into the local and international markets, develop new clothing products and showcase new collections in new and innovative ways.
The programme aims to help the continent's future fashion designers discover their identity and deliver on their true creative potential. From all the applications received, 8 finalists will be selected who will have access to:
Connections to relevant fashion technologies, business tools and innovative solutions
Intensive curriculum tailored to the needs of early stage fashion businesses
Meetings with senior business executives, investors, and experienced entrepreneurs
Insightful workshops with experts and industry thought leaders
Pitch ideas and showcase concepts at a Demo Day, where fashion retail executives, investors, and press will be in attendance
The 8-week long course was conceived by Mettā (a global club for entrepreneurs that connects people, ideas and resources with the purpose of furthering business opportunities) and is supported by Nest (a full service early-stage venture capital firm focused on helping startups and talented founders from around the world build businesses that apply and commercialize innovation), Association of Fashion Designers, FA 254, and Maridadi.co.

Benefits:
The program has dedicated resources that will enable you to create strategies for your product. We are bringing in mentors, networks and a
curriculum targeted for your value chain's growth
MENTORSHIP
Receive guidance and support from specialists and industry experts in Fashion and startups.
METTĀ
Access to a global collaborative entrepreneurs platform. The first in Nairobi and already launched in Hong Kong.
TAILORED WORKSHOPS
Developed and delivered by top fashion industry experts and influencers.
Network
Access to the Mettā ecosystem to meet a community of people and build a network that can help you make things happen.
Timeline:
Phase 1
Selection :
Applications open: Sept 9th – Sept 30th
Selection, Pitch presentation & Selection Results : Oct 1st – Oct 14th
 Phase 2
Product Lab : Oct 17th – Oct 28th
Branding, Design, Marketing & Communications : Oct 31st – Nov 11th
Differentiation, Sourcing & the supply chain, Distribution Models : Nov 14th –Nov 25th Merchandising, Personal Branding, Pitch Training : Nov 28th – Dec 8th
Pitch Practice, Final Design  Touch-ups
 Phase 3
Showcase : Dec 9th