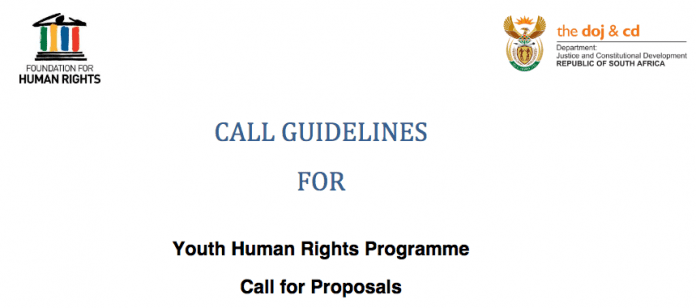 Application Deadline: 2nd June 2017
The Foundation for Human Rights (FHR) is a grant maker to the Human Rights Sector, established in 1996 by the Government of South Africa and the European Union (EU). The
Foundation, Department of Justice and Constitutional Development (DoJ&CD) and the EU work in partnership to fund civil society organisations in the justice and human rights sector under the Sector Budget Support.
This Call for Proposal aims to encourage youth to be active champions of their own  development. The purpose of this i ntervention is to support and strengthen youth-driven and youth-centred CSOs to achieve socio-economic rights, goals and improve opportunities for young people. We are looking for youth leaders and strong youth-centred registered not-for-
profit organisations working to address significant issues including, but not restricted to:
Realising socio-economic rights including the right to food, water, education, land and housing.
Human rights education with youth including international treaties, focusing on International Covenant on Economic, Social and Cultural Rights.

Human rights dialogues and participation around service delivery in cooperation with municipalities.

Equality including, LGBTI rights and gender equity.

Participation by youth in developing Integrated Development Plans at local government level to promote service delivery.

Focus on young women through projects designed and implemented by women from marginalised and vulnerable communities to enable them to realise their rights.

In addition, FHR is seeking to support rights based innovative programmes such as community radio, social media, arts or other unique platforms that target youth as beneficiaries.
Eligibility Requirements:
Be registered, or in the process of registering as a Not for Profit Organisation (NPO) that is Section 21 company (Not for Profit Company), or a non-profit trust.
Funding will only be provided once registration is completed and confirmed.
Have a track record of working in the human rights sector, and in particular be engaged in projects which support and promote awareness and realisation of constitutional rights amongst youth.
Organisations that are NOT working towards achieving socio-economic rights will not be considered.
Organisations that are based in, or operating in the following provinces: Eastern Cape, Northern Cape, North West, Free State, Limpopo and Mpumalanga are strongly encouraged to apply

Preference will be given to projects that take into account all levels of vulnerability, including youth living with disabilities, young women, LGBTI youth and youth living in peri-urban and

rural areas.

FHR may consider applications from start-up organisations who are building

capacity to manage funds but are running, or proposing to facilitate innovative youth-driven and youth-centred programs. Such organisations and applications will be considered if the start-up organisations has partnered with well-established organisations that can prove that they have the capacity to manage funds and assist with program/project management.
Total Amount of Grant Award
The total grant award will be a maximum of R120, 000.00 per organisation per annum.
Guidelines for Submission
Applications may be posted, hand delivered, emailed or couriered.
Faxed applications will NOT be accepted.
Submission Date : 2nd June 2017
For More Information:

Visit the Official Webpage of the FHR Youth Human Rights Programme 2017 for Civil Society Organizations