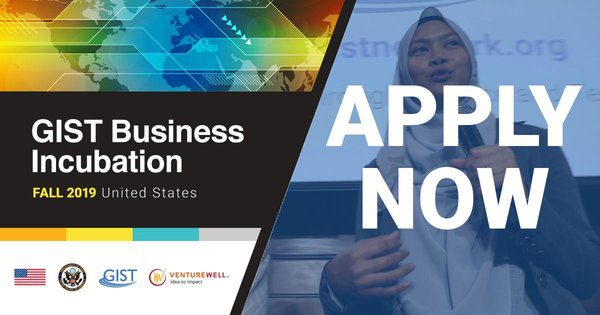 Application Deadline: July 31st 2019
The U.S. Department of State's Global Innovation through Science and Technology, or GIST, Initiative is excited to announce a new program for entrepreneurs in emerging economies. GIST Business Incubation will support international science and technology innovators who are looking to expand their startups into the United States market. It will also provide the U.S. startup ecosystem the opportunity to forge new connections with entrepreneurs who are abroad.
The program, presented with implementation partner VentureWell, will be hosted in business incubators located across the United States.
The 2019 GIST Business Incubation program will provide entrepreneurs with exposure to the U.S. market and startup resources. While in residence with the program, participants will work on refining their ideas, building their business plans, and finding the right market for their product. Participating entrepreneurs will also have the opportunity to network within the startup ecosystem where they are placed.

The first GIST Business Incubation program will take place in Fall 2019 with the exact dates and locations to be announced. Participants who are accepted into the program will be assigned to an incubator inside the United States.
Eligibility
You must meet the following criteria in order to apply:
Only one member from your team can participate in this program.
Only applicants from GIST eligible countries are allowed to apply. Click here to determine if your passport is from a GIST eligible country.
All applicants must be between the ages of 18 and 40.
You must be a proficient English speakers. This program will not include language interpretation.
All startups must be in the science or technology sector.
Important Things to Know
Before you begin your application, there are some things you must keep in mind regarding this program:
Only one person is allowed to participate from each startup, and only one application will be accepted for each team.
Your startup must be in its Series A or scale-up ready – that is to say, you must be actively working on your startup. We will not accept applications for startup ideas.
VentureWell and the U.S. State Department will provide you with an offer letter as proof of your acceptance into this program which you can use for a visa. However, you will be responsible for securing all other documents for your visa as well as securing the visa itself.
You will be provided with a stipend if you are accepted into this program. However, you or your company will need to be provide any additional financial support for costs associated with your participation. VentureWell will provide you with information about a reasonable budget for your planning prior to the start of the program.
The application deadline for this program is Wednesday, July 31 at 11:59 a.m. EDT. Acceptance decisions will be announced mid-August.
For More Information:
Visit the Official Webpage of the GIST Business Incubation Program 2019