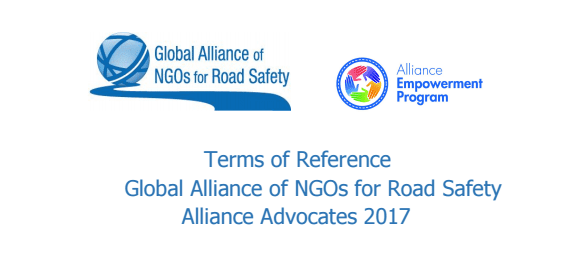 Application Deadline: May 18th 2017
The Global Alliance of NGOs for Road Safety is committed to contribute effectively towards the SDG target of halving the number of road deaths by 2020. Recognizing the urgent need to focus on evidence-based risk areas to reduce road deaths, the Alliance has created the Alliance Academy to focus on promoting advocacy and action on evidence-based risk areas as the most effective global response to the crisis of fatalities on the roads.
The Alliance will, through the Alliance Academy, recruit 10-15 Alliance NGO participants to become Alliance Advocates. The Alliance Advocates will undergo an intensive, tailored training between 15 – 24 August 2017 in Memphis, Tennessee, US.
Participants will be selected through a rigorous competitive application process from among member NGOs.

Selected participants must be self-starters who possess and demonstrate experience, dedication and willingness to make a change. All selected participants will be called upon to share their expertise with fellow Alliance members. Through individualized mentoring and trainings their skills will be nurtured and their expertise will grow as they advocate on risk areas and support other Alliance members to advance their work. Alliance Advocates will be a key investment for the Alliance over the years to come, and the Alliance will expect a significant return on investment from this core group in terms of their own growth and their promotion of global agendas.
Alliance Advocates will remain staff of their own home NGO, and they will not considered as staff of the Alliance. The home NGO will be asked to ensure that the staff member is given the time and resources required to implement the activities they commit to as Alliance Advocates. In return, the Alliance will build the capacity of the NGO staff member, which is anticipated to provide significant growth opportunities for the entire NGO.
Purpose/Objective
The Academy will select and train 10-15 Alliance Advocates who will push for and support action in established risk areas. The Alliance Advocates will work together as a team to focus on specific deliverables and outcomes.
The Alliance Advocates will:
● Act as role models and mentors in an evidence-based risk area (helmet use, seatbelt use, speeding, drink and drive, school crossing infrastructure)
● Promote desired behavior associated with each risk area
● Take action and act for policy change in risk area – hold government accountable
● Support the Alliance through advocacy at key events and/or conduct trainings/activities with local road safety partners
Output/ Product
A core group of 10-15 Alliance Advocates.
The Alliance Advocates will, upon completion of training:
● By April 2018, complete at least XX (number to be set at training) activities in one risk area that is based on evidence for a relevant target group.
● Raise funds for their planned activities.
● Regular progress reporting to fellow Alliance Advocates and Alliance
Benefits:
The Alliance Academy offers:
10–15 spots for a two-week Alliance Advocate course in Memphis, Tennessee, USA, at the FedEx training facilities between 15 August – 24 August 2017;
Travel, accommodation, participant fee, and training costs covered; Alliance per diem rates apply;
Access to the Alliance network, in-house capacity, and top trainers in the field of communication, facilitation, risk areas, fund-raising, and monitoring and evaluation;
A State-of-the-art training course tailored to the needs of the participating Alliance Members;
An opportunity to help make the most important contribution the NGO community has ever delivered
Growth for you and your organization.
TIMELINE:
Application timeline:
● 12 April 2017: Call for applications
● 18 May 2017 midnight GMT: Close for applications
● End May 2017: Follow-up and final selection
● End May 2017: Successful applicants will be informed
● Beginning of June 2017: Final commitment from participants
● End June 2017: Unsuccessful applicants will be informed
● 15 Aug – 24 Sep 2016 Training in Memphis, Tennessee, USA
Submission details
We will seek a balance in gender, global and regional representation among the 10-15 participants. All incoming applications will be scored and assessed based on fulfillment of criteria listed below. We wish to recruit participants who can deliver: one assessment criterion is whether the application arrives on time and follows listed instructions.
Submit the following five documents attached to an e-mail:
● Cover note:​ A one-page cover note with full name, position, country, name of NGO and date and contact details.
● Application: ​Max. three-page application in English, in which the applicant addresses each of the points in the participant profile through real life examples from your work/life. See participant profile below.
● Letter of support from leadership​: A one page letter of commitment indicating how this training will be used by the participant and home NGO and wider community – signed by applicant and leader of NGO
● CV: ​Max. 1 page – only include information relevant to this application
Please note: Incomplete applications or applications submitted after the deadline will not be
considered.
Send five documents attached to an e-mail to [email protected] no later than 18 May 2017 at midnight GMT.
For More Information:
Visit the Official Webpage of the Global Alliance of NGOs for Road Safety Alliance Advocates 2017