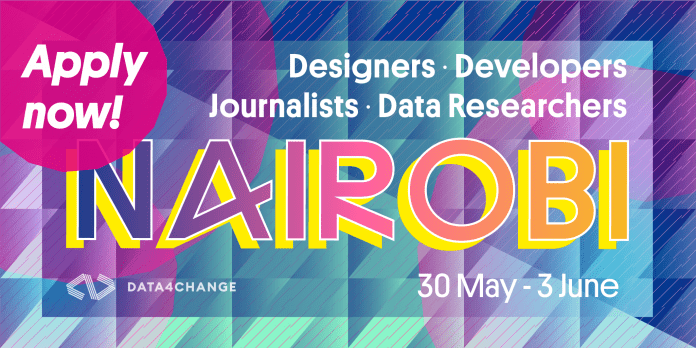 Application Deadline: 28 February 2019 (5pm GMT)
Applications are now open for designers, journalists, data researchers and web developers to attend this year's DATA4CHANGE flagship event in Nairobi, Kenya. Do you have what it takes to join our new cohort of talented people who are passionate about data and design for social good?
DATA4CHANGE is a 5-day design sprint where the best local, regional and international talent in data, design, journalism and technology are teamed up with NGOs that collect data.

Together, they create high-level prototypes of data-driven projects or campaigns aimed at solving some of the world's most pressing challenges. This year, the theme for the event is digital rights and freedom of expression online in Africa and the Middle East.


A DATA4CHANGE event is fast paced, so you need to be someone who thrives under pressure. You also need to love teamwork, because DATA4CHANGE is all about collaboration and skill sharing across borders and disciplines.
30 May – 3 June, 2019
Venue: Nairobi Garage
DATA4CHANGE is a London-based non-profit that connects civil society with global creatives, supporting them to tell stories with data and forge real change. Our flagship events are 5-day residential design sprints based in exciting locations around the world.
Since 2014, more than 200 people from over 40 countries have attended DATA4CHANGE flagship events in London, Beirut, Amman and Kampala. Applications are now open to attend our 2019 event, which will be held at Nairobi Garage. We're very excited to have Code for Africa on board as our event partner.
ELIGIBILITY
DATA4CHANGE invite applications from talented and passionate designers, developers, data researchers and journalists. This is a highly sought after opportunity and the application process is very competitive. Applicants are assessed on the quality of their portfolio submission and their description of their work.

Benefits:
All travel and accommodation expenses for international and non-local participants are fully funded by DATA4CHANGE. Participants are also provided a modest per diem to cover additional in-country costs. All participants receive a certificate, and become a member of the exclusive DATA4CHANGE network.
For More Information:

Visit the Official Webpage of the DATA4CHANGE Nairobi Event 2019