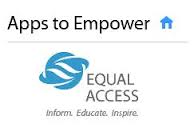 You are invited to participate in a global phenomenon. As women and girls everywhere gain access to technology, they are using it to improve their lives, families and communities. We believe we can play an active role in this empowerment. We invite you, no matter where you're from, to share your creative energy and technical expertise. Help us empower young women in leadership and mentorship, jobs and entrepreneurship, education and conflict resolution.
The Global Apps to Empower contest is organized by Agnite Education, American Digital University, Applications for Good, BluWorld, Cat in Woods, Datawind, Equal Access International and the United Nations Office for Partnerships.
Submissions
Submissions may be submitted either by individuals or by groups of individuals (a "Team"). If a Submission will be submitted by a Team, the Team must consist of no more than four (4) individuals, and each member of a Team must satisfy the eligibility requirements set forth in these Terms and Conditions. Each Team must designate in the application a single member of the Team who will serve as the Team's sole representative for communications and all other purposes in connection with the Competition (the "Team Leader"). All agreements, consents, representations and warranties made or given by a Team Leader herein or otherwise in connection with the Competition will be deemed by Sponsors as binding upon all members of the pertinent Team as if made by each such member.
Eligibility
The Competition is open only to individuals who are 18 years of age or older as of the date of entry. The following are not eligible to enter or win the Competition: (1) employees, officers, directors and contractors of the Sponsors, and any member of their immediate family (i.e., a spouse, parent, grandparent, child or grandchild of the entrant) or household of any of the foregoing individuals; and (2) any member of the immediate family (i.e., a spouse, parent, grandparent, child or grandchild of the entrant) or household of any judge.
To Enter
Visit http://appstoempower.org/app-submission.php (the « Site ») during the Entry Period and follow the entry instructions.
Qualifications
Applications must be approved by the Partners before becoming available on the Datawind tablet, BluWorld portal and elsewhere. The apps should be developed for the following technical specifications:
Android 2.2 Froyo OS
366MHz Arm11 Processor
All app submissions should be fully baked apps ready to be installed and used on a device
Judging Criteria
Apps will be judged on the following criteria:
Relevance: Value addition to a young woman's life
Usability: Ease of Use/Intuitiveness/User Experience
Innovation/Creativity: Originality of thought and execution
Ability to Solve Problem Statement: How well the submission addresses the problem
Incentives and Benefits for Winners
The top 5 applications submitted will be featured on the Ubislate series of tablet devices and at the BluWorld portal, and promoted through a global alliance of technology firms, foundations and United Nations organizations.
Cash prizes of US$2,500 will be awarded to the winning app in each of the four categories (Leadership/Mentorship; Conflict Resolution; Education/Out of the Box; Entrepreneurship/Jobs).
Click here to Submit your app for the Global Apps to Empower Competition.