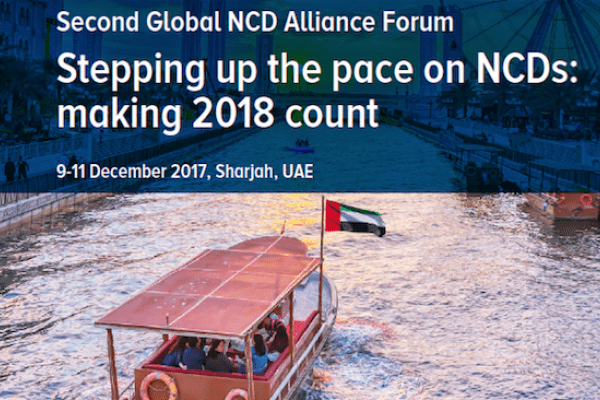 Application Deadline: September 1, 2017.
Building on the successes of the first Global NCD Alliance Forum held in Sharjah in November 2015, a second Forum, Stepping up the pace on NCDs: making 2018 count, will be held in Sharjah, the United Arab Emirates from December 7 – 11, 2017.  The Global NCD Alliance Forum 2017 will be held by the NCD Alliance in partnership with local host organization – Friends of Cancer Patients (FoCP) and under the patronage of Her Highness Sheikha Jawaher Bint Mohammed Al-Qasimi , Wife of the Ruler of Sharjah, Founder and Royal Patron of Friends of Cancer Patients, International Ambassador of the World Cancer Declaration for Union for International Cancer Control (UICC), International Ambassador for Childhood Cancer for UICC and Patron of the First Global NCD Alliance Forum. 
The Alliance has convened a Youth Planning Committee to support the meaningful and sustained engagement of youth advocates during the Forum.  The Committee is responsible for developing and implementing a strategy that ensures youth participation spanning before, during, and after the Forum to meet the following objectives:
To convene the civil society network of national/regional NCD alliances to share experiences, lessons learnt and connect with key stakeholders across sustainable development;
To promote the engagement of patients and youth in the NCD movement, including through launching the Advocacy Agenda of People Living with NCDs;
To strengthen the capacity of the network of national/regional NCD alliances, including in areas such as coalition building, sustainability, involvement of youth and people living with NCDs, and issue specific advocacy;
To build consensus on advocacy priorities for 2018 UN High Level Meeting (HLM) on NCDs;
To further the Sharjah Declaration by facilitating advocacy campaign planning towards the 2018 UN HLM.
Applicants must meet the following criteria to be eligible for consideration:
30 years or below
Must exhibit working knowledge of the role of NCDs in the 2030 Agenda for Sustainable Development and related frameworks (e.g. Global Action Plan for the Prevention and Control of NCDs 2013-2020)
Have at least 1 external network that will be briefed and involved in any preparatory (e.g. online discussion) and follow-up activities related to the Forum
Commitment to remain involved with Forum youth participant network
Commitment to learning, active participation, and dedicated engagement
Able to attend pre-Forum Youth Workshop  (Dec 7-8) and Global NCD Alliance Forum (December 9-11)
Limited travel grants are available
For More Information:
Visit the Official Webpage of the Global NCD Alliance Forum 2017 Youth Delegate Program