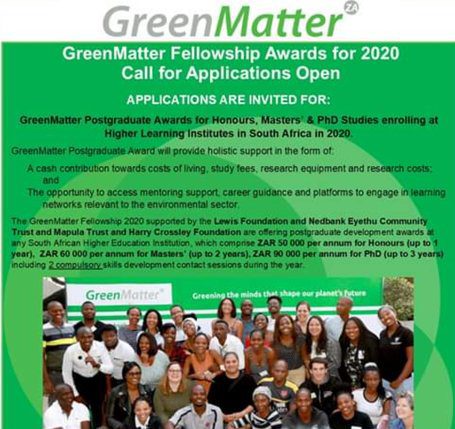 Application Deadline: November 24th 2019
The GreenMatter Fellowship brings together a cohort of dynamic, talented and committed biodiversity practitioners, with the objective of developing and unlocking their potential. It affords participants the opportunity to fully engage in tackling biodiversity issues through their study and career paths, alongside peers who share in that commitment.

Applications are invited for GreenMatter Postgraduate Awards for Honours, Masters' and PhD studies in South Africa. This round of applications is for students who are starting study in the 2020 academic year. 
Requirements:
Applicants must be:

A national of South Africa;
In possession of an undergraduate Degree; or if in a 4 year degree, provide latest marks and letter from lecturer confirming such; or in possession of an Honours degree if pursuing a Masters'; or in possession of a Masters' degree if pursuing a PhD;
Seeking funding for starting a full-time postgraduate programme;
Able to motivate how your field of study aligns to the GreenMatter priority skill areas identified.
Application Procedure:
Please apply only if you are eligible.

Application Process:
The application form is of primary importance as it serves as the basis for assessment. The form should be completed and submitted via the EMAIL to [email protected] Please remember to fill in all sections of the form. If you experience any problems, questions can be emailed to [email protected] and will be responded to within 2 working days.

APPLICATION FORMS AND GUIDELINE DOCUMENTS CAN BE FOUND AT THE BOTTOM OF THIS PAGE
The following supporting documents must be included and should be emailed at the end of the form. Please make sure the documents are labelled accordingly.
Proof of South African citizenship;
Certified copy of degree certificate(s);
Certified academic transcripts (If academic transcripts are not available, current marks will suffice; however, final marks must be submitted as soon as they become available – even in a separate email);
Curriculum Vitae (CV) – List any and all work or volunteer experience;
Reference letters from two referees.
Submit your references with all the other supporting documents or, should your referee prefer to submit their reference directly, ask them to email it to [email protected].
The subject of the email should state that it is a reference and comprise the name and surname of the applicant, e.g., Reference: LASTNAME, First name. Once your referee has submitted their reference we will email you a confirmation of receipt.
Timetable
The deadline for applications is SUNDAY 24TH NOVEMBER 2019. Late or incomplete applications will not be considered. All applications must be emailed to [email protected].

Should you not hear from us by the 30th of January, your application has not been successful. Please do not email us to ask about the outcome.
​The final selection rests with GreenMatter and associated partners. No correspondence will be entered into.
HOW TO APPLY:
1. Download the Guideline Document below.
2. Fill in the Application form below.
3. Return the Application and ALL supporting documentation to [email protected] by the 24th of November 2019.
*Please note that incomplete applications will not be accepted.
For More Information:
Visit the Official Webpage of the GreenMatter Fellowship 2020 Postgraduate Awards