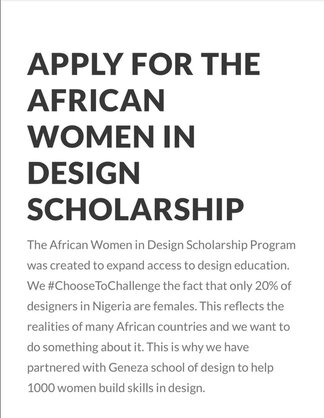 Application Deadline: 11:59 pm, March 26, 2021
The African Women in Design Scholarship Program was created to expand access to design education. We #ChooseToChallenge the fact that only 20% of designers in Nigeria are females. This reflects the realities of many African countries and we want to do something about it. This is why we have partnered with Geneza school of design to help 1000 women build skills in design.
THE DESIGN TRAINING
The design training comprises of three comprehensive digital course paths. You can learn one of the following:
Product Design (UI)
Graphic Design
Brand Identity Design
The best part? Each path is a potential career and 0.05% will get access to job opportunities and our laptop program after assessment.

This is a women-only scholarship. If you would like to learn design and you are not a female, apply for the #I4GHNGScholarship instead.
You will learn:
Product Design: You will learn to design websites and mobile application interfaces using Figma.
View course content
Graphic Design: You will learn the principles of design, visual elements, and how to use Photoshop. View course content
Brand Design: You will learn how to interpret briefs, create logos, packaging, and brand assets.
View course content
Scholarship Available
1000.
500 in the first cohort (April to August)
500 in the second cohort (August to December)
Only the top 0.05% (50 students) will be placed in jobs.
Apply Now for the African Women in Design Scholarship Program 2021.
For More Information:
Visit the Official Webpage of the African Women in Design Scholarship Program 2021