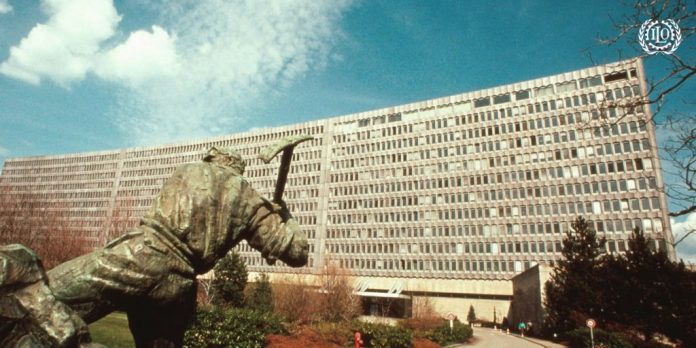 Application Deadline: January 15th 2017
If you are thinking of entering the world of the UN within a specialized agency, the International Labour Organization (ILO) will offer you its unique tripartite structure and projects around the decent work agenda, where working with governments, employers and workers is the exciting challenge of every days work.
The ILO is devoted to advancing opportunities for women and men to obtain decent and productive work in conditions of freedom, equity, security and human dignity. Its main aims are to promote rights at work, encourage decent employment opportunities, enhance social protection and strengthen dialogue in handling work-related issues. If you are interested in joining the ILO as an intern you will help to make its vision of universal human conditions of labour a reality.
At the ILO you will face dynamic, results-based practices. Our culture promotes high-performance and encourages knowledge-sharing and enhanced talent management. As the acknowledged leader in labour issues, ILO is committed to building future leaders in the world of work. ILO's Internship Programme provides a wide range of opportunities for young high calibre graduate and postgraduate students or recently graduated candidates who now look for a first working experience in fields related to the ILO's mandate and activities.
Requirements:
Are you currently enrolled in the last year of a graduate degree (Master or equivalent) or in a higher degree programme relevant to the ILO's work or have you completed such a programme in the year preceding the application?
NTERNSHIPS

Vacancy number:
Title:
Organization unit:
Application Deadline (midnight Geneva time)
Other languages:

ROSTER/INTERNSHIP/2017/1/01

INTERNSHIP IN HUMAN RESOURCES- GENEVA, SWITZERLAND
(DDG/MR) Human Resources Development
Geneva
15-Jan-17
Français Español

ROSTER/INTERNSHIP/2017/1/02

INTERNSHIP IN LEGAL SERVICES- GENEVA, SWITZERLAND
Legal Services
Geneva
15-Jan-17
Français Español

ROSTER/INTERNSHIP/2017/1/03

INTERNSHIP IN PROCUREMENT (PURCHASING)-GENEVA, SWITZERLAND
Procurement
Geneva
15-Jan-17
Français Español

ROSTER/INTERNSHIP/2017/1/04

INTERNSHIP IN PROCUREMENT (CONTRACTING)-GENEVA, SWITZERLAND
Procurement
Geneva
15-Jan-17
Français Español

ROSTER/INTERNSHIP/2017/1/05

INTERNSHIP IN SECTORAL POLICIES-GENEVA, SWITZERLAND
(DDG/P) Sectoral Policies
Geneva
15-Jan-17
Français Español

ROSTER/INTERNSHIP/2017/1/06

INTERNSHIP IN THE ILO ADMINISTRATIVE TRIBUNAL-GENEVA, SWITZERLAND
Administrative Tribunal
Geneva
15-Jan-17
Français Español

ROSTER/INTERNSHIP/2017/1/07

INTERNSHIP ON THE INCLUSION OF PERSONS WITH DISABILITIES-GENEVA, SWITZERLAND
(DDG/P) Conditions of Work and Equality
Geneva
15-Jan-17
Français Español

ROSTER/INTERNSHIP/2017/1/08

INTERNSHIP IN COMMUNICATION AND PUBLIC INFORMATION – MULTIMEDIA-GENEVA, SWITZERLAND
DDG/MR DCOMM (Communications)
Geneva
15-Jan-17
Français Español

ROSTER/INTERNSHIP/2017/1/09

INTERNSHIP ON DEVELOPMENT COOPERATION AND DONOR RELATIONS-GENEVA, SWITZERLAND
(DDG/FOP) Partnerships and Field Support
Geneva
15-Jan-17
Français Español

ROSTER/INTERNSHIP/2017/1/10

INTERNSHIP FOR THE PREPARATION OF A COOPERATIVE TRAINING TOOL-GENEVA,SWITZERLAND
(DDG/P) Enterprises
Geneva
15-Jan-17
Français Español

ROSTER/INTERNSHIP/2017/1/11

INTERNSHIP IN COLLECTIVE BARGAINING AND INDUSTRIAL RELATIONS-GENEVA, SWITZERLAND
(DDG/P) Conditions of Work and Equality
Geneva
15-Jan-17
Français Español

ROSTER/INTERNSHIP/2017/1/12

INTERNSHIP IN LABOUR ADMINISTRATION, LABOUR INSPECTION AND COMPLIANCE -GENEVA, SWITZERLAND
(DDG/P) Governance and Tripartism
Geneva
15-Jan-17
Français Español

ROSTER/INTERNSHIP/2017/1/13

INTERNSHIP IN OCCUPATIONAL SAFETY AND HEALTH LEGISLATION – GENEVA, SWITZERLAND
(DDG/P) Governance and Tripartism
Geneva
15-Jan-17
Français Español

ROSTER/INTERNSHIP/2017/1/14

INTERNSHIP IN OCCUPATIONAL SAFETY AND HEALTH (OSH) AND COMPLIANCE – GENEVA, SWITZERLAND
(DDG/P) Governance and Tripartism
Geneva
15-Jan-17
Français Español

ROSTER/INTERNSHIP/2017/1/15

INTERNSHIP ON EMPLOYMENT AND SOCIAL POLICY IN THE REGIONAL OFFICE EUROPE AND CENTRAL ASIA-GENEVA, SWITZERLAND
ILO Regional Office for Europe and Central Asia
Geneva
15-Jan-17
Français Español

ROSTER/INTERNSHIP/2017/1/16

INTERNSHIP ON LABOUR LAW REFORM AND IMPROVED DISPUTE RESOLUTION SYSTEMS-GENEVA, SWITZERLAND
(DDG/P) Governance and Tripartism
Geneva
15-Jan-17
Français Español

ROSTER/INTERNSHIP/2017/1/17

INTERNSHIP ON QUALITY APPRENTICESHIPS-GENEVA, SWITZERLAND
(DDG/P) Employment Policy
Geneva
15-Jan-17
Français Español

ROSTER/INTERNSHIP/2017/1/18

INTERNSHIP ON RECORDS ADMINISTRATION FOR COPAC ARCHIVES-GENEVA, SWITZERLAND
(DDG/MR) Internal Services and Administration
Geneva
15-Jan-17
Français Español

ROSTER/INTERNSHIP/2017/1/19

INTERNSHIP IN EVALUATION OFFICE- GENEVA, SWITZERLAND
EVAL
Geneva
15-Jan-17
Français Español

ROSTER/INTERNSHIP/2017/1/20

INTERNSHIP IN THE RESEARCH DEPARTMENT-GENEVA, SWITZERLAND
DDG/P RESEARCH
Geneva
15-Jan-17
Français Español

ROSTER/INTERNSHIP/2017/1/21

INTERNSHIP IN SOCIAL PROTECTION- GENEVA, SWITZERLAND
(DDG/P) Social Protection
Geneva
15-Jan-17
Français Español

ROSTER/INTERNSHIP/2017/1/22

INTERNSHIP IN GLOBAL BUSINESS NETWORK FOR SOCIAL PROTECTION FLOORS – GENEVA, SWITZERLAND
(DDG/P) Social Protection
Geneva
15-Jan-17
Français Español

ROSTER/INTERNSHIP/2017/1/23

INTERNSHIP IN STATISTICS-GENEVA, SWITZERLAND
DDG/P STATISTICS
Geneva
15-Jan-17
Français Español

ROSTER/INTERNSHIP/2017/1/24

INTERNSHIP IN RESEARCH AND COMMUNICATION- GENEVA, SWITZERLAND
DDG/P RESEARCH
Geneva
15-Jan-17
Français Español

ROSTER/INTERNSHIP/2017/1/25

INTERNSHIP IN IMPACT INSURANCE KNOWLEDGE MANAGEMENT – GENEVA, SWITZERLAND
(DDG/P) Enterprises
Geneva
15-Jan-17
Français Español

ROSTER/INTERNSHIP/2017/1/26

INTERNSHIP IN EMPLOYMENT POLICY DEVELOPMENT AND RESEARCH – GENEVA, SWITZERLAND
(DDG/P) Employment Policy
Geneva
15-Jan-17
Français Español

ROSTER/INTERNSHIP/2017/1/27

INTERNSHIP IN WAGE POLICIES -GENEVA, SWITZERLAND
(DDG/P) Conditions of Work and Equality
Geneva
15-Jan-17
Français Español

ROSTER/INTERNSHIP/2017/1/28

INTERNSHIP ON DEVELOPMENT COOPERATION SUPPORT-GENEVA, SWITZERLAND
(DDG/FOP) Partnerships and Field Support
Geneva
15-Jan-17
Français Español

ROSTER/INTERNSHIP/2017/1/29

INTERNSHIP IN ACTIVE LABOUR MARKET POLICIES AND EMPLOYMENT SERVICES -GENEVA, SWITZERLAND
(DDG/P) Employment Policy
Geneva
15-Jan-17
Français Español

ROSTER/INTERNSHIP/2017/1/30

INTERNSHIP IN GREEN JOBS RESEARCH AND POLICY ANALYSIS – GENEVA, SWITZERLAND
(DDG/P) Enterprises
Geneva
15-Jan-17
Français Español

ROSTER/INTERNSHIP/2017/1/32

INTERNSHIP ON THE FUTURE OF WORK- GENEVA,SWITZERLAND
(DDG/FOP) Multilateral Cooperations
Geneva
15-Jan-17
Français Español

ROSTER/INTERNSHIP/2017/1/33

INTERNSHIP IN SME DEVELOPMENT AND ENTREPRENEURSHIP PROMOTION- GENEVA, SWITZERLAND
(DDG/P) Enterprises
Geneva
15-Jan-17
Français Español

ROSTER/INTERNSHIP/2017/1/34

INTERNSHIP IN INTERNATIONAL LABOUR MIGRATION- GENEVA, SWITZERLAND
(DDG/P) Conditions of Work and Equality
Geneva
15-Jan-17
Français Español

ROSTER/INTERNSHIP/2017/1/35

INTERNSHIP IN FREEDOM OF ASSOCIATION- GENEVA, SWITZERLAND
(DDG/P) International Labour Standards
Geneva
15-Jan-17
Français Español

ROSTER/INTERNSHIP/2017/1/36

INTERNSHIP IN CONDITIONS OF WORK AND EQUALITY -GENEVA, SWITZERLAND
(DDG/P) Conditions of Work and Equality
Geneva
15-Jan-17
Français Español

ROSTER/INTERNSHIP/2017/1/37

INTERNSHIP IN TRANSLATION SERVICES- GENEVA, SWITZERLAND
(DDG/MR) Official Relations and Conference Services
Geneva
15-Jan-17
Français Español

ROSTER/INTERNSHIP/2017/1/38

INTERNSHIP IN LIBRARY AND INFORMATION MANAGEMENT – GENEVA, SWITZERLAND
(DDG/MR) Information and Technology Management
Geneva
15-Jan-17
Français Español

ROSTER/INTERNSHIP/2017/1/39

INTERNSHIP ON FINANCE DEPARTMENT (LIMA,PERU)
Financial Services
Lima
15-Jan-17

ROSTER/INTERNSHIP/2017/1/40

INTERNSHIP ON SOCIAL PROTECTION STATISTICS IN THE CARIBBEAN (PORT OF SPAIN; TRINIDAD and TOBAGO)
STATISTICS
Port Of Spain
15-Jan-17

ROSTER/INTERNSHIP/2017/1/41

INTERNSHIP ON LIBRARY AND INFORMATIONS SERVICES (LIMA,PERU)
Services
Lima
15-Jan-17

ROSTER/INTERNSHIP/2017/1/42

INTERNSHIP IN COMMUNICATION AND PUBLIC INFORMATION -GENEVA;SWITZERLAND
Communications
Geneva
15-Jan-17
Français Español
For More Information:
Visit the Official Webpage of the ILO's Internship Programme 2017