Application Deadline: 15 April 2016
The Jacobs Foundation is pleased to announce the 2016 call for applications for its Research Fellowship Program. The Jacobs Foundation Research Fellowship Program is an internationally open, competitive fellowship program for early and mid-career researchers focusing on child and youth development.
Fellowships are awarded to the most highly talented and innovative early- and mid-career researchers working on child and youth development. Funds are awarded directly to the fellow's institution and may be used over a three-year period to partially cover the fellow's salary and for any activity supporting the fellow's research, such as assistant salaries, equipment, technical assistance, professional travel, or trainee support.
Scholars who engage in interdisciplinary work on individual development and learning of children and youth, and who seek to combine genetic, epigenetic, neurobiological, behavioral and social levels of analysis, are particularly encouraged to apply.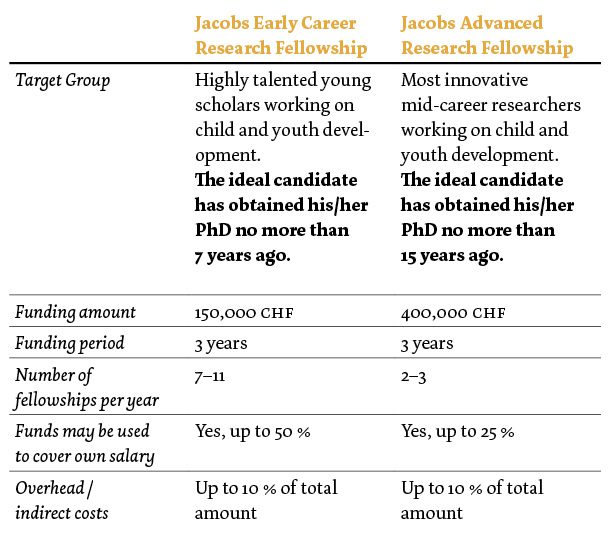 Selection Criteria
Fellows are selected on the basis of their research accomplishments, creativity, and potential to become leaders in the scientific community through their contributions to the field of child and youth development.
International relevance of the fellow's planned work, the alignment of planned projects with the goals of the Jacobs Foundation, and the willingness to identify with the aims and to engage actively with us will also be selection criteria.
How to Apply:
How to Apply
Applications for the Jacobs Foundation Research Fellowship Program 2017-2019 are now being accepted by the Foundation. The following two documents must be submitted online in one PDF document until 15 April 2016 for an eligible candidate to be considered for a Jacobs Foundation Research Fellowship:
The candidate's curriculum vitae including a list of the candidate's scientific publications;
A two-page statement by the candidate describing his or her significant scientific work and immediate research plans, and how these relate to the mission of the Jacobs Foundation.
A confidential recommendation letter from a department head or other senior researcher supporting the candidate and describing his or her qualifications, initiative, and research, should be sent directly to [email protected].
Apply Now for the Jacobs Foundation Research Fellowship Program
For More Information:
Visit the Official Webpage of the Jacobs Foundation Research Fellowship Program