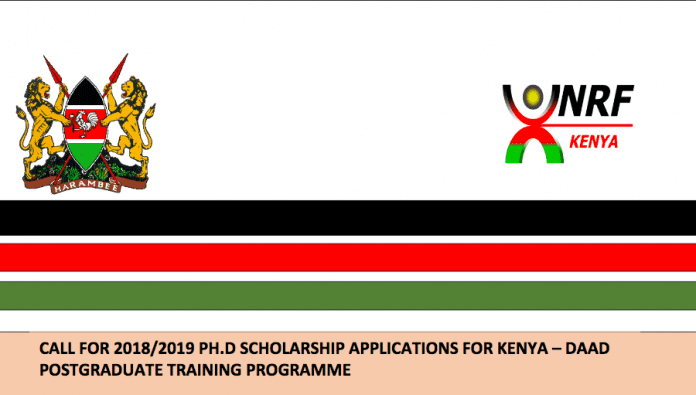 Application Deadline: October 31st 2017
The Kenya Vision 2030 policy document recommends investment in Science, Technology &
Innovation (ST&I) in priority key sectors. One such area involves capacity building in the universities through advanced training of personnel. As part of this initiative, the Agreement for Cooperation in Postgraduate Training has been renewed between the Ministry of Education, State Department of University Education and the German Academic Exchange Service (DAAD).
The programme will be administered by the National Research Fund on behalf of the Ministry.
The programme will offer twenty one (21) Ph. D vacancies to eligible academic personnel teaching in Kenyan universities (both public and private) for a duration of up to forty five (45) months (exclusive six (6) months German language course) at a German university.
Requirements:
For eligibility to the Kenya
DAAD Ph.D Scholarship, candidates must meet the following conditions:
• Be a citizen of the Republic of Kenya;
• Be teaching (full or part time) in Kenyan universities (both public and private);
• Should have obtained the Master's degree preferably with in the past 6 years (date of graduation);
• Be willing to undertake a six (6) months German language course;
The following documents must be prepared for the online application :
• Curriculum Vitae and list of publications (use the Europass specimen form at http://europass.cedefop.europa.eu/documents/curriculum-vitae)
Abstract of one page, research proposal (not more than 10–15 pages) including detailed timetable; academic degree certificates and transcripts, whereby the Bachelor's degree must have been passed with at least second class upper division and a Masters degree with at least a B+ grade (or equivalent);
Invitation letter from a German supervisor OR admission letter to a structured PhD programme at a German university
• Two academic reference letters from university professors (forms provided in the online portal below)
• A no objection Letter from the university, indicating the prospective function of the
applicant within the university after return to Kenya and a commitment by the University on job security of the applicant till the period of return (those on who qualify will be
required to produce the Bonding document).