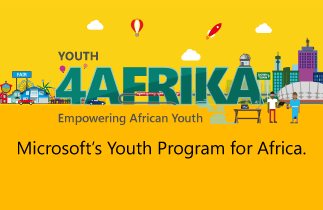 Application Deadline: June 30th 2016
The Microsoft 4Afrika Internship Program provides a world-class job training experience to qualified students in Microsoft Africa locations.
The primary goal is to promote employability by providing a unique job experience to hundreds of qualified graduates per year, enabling them to land jobs within Microsoft and our broader partner ecosystem in Africa. The program has two intakes per year and kicks off with a one-week on-boarding and orientation event in our South African office. This includes a signature team building activity to get the interns energized for the intense year ahead.
Microsoft has designed the Interns4Afrika program in response to demand from within its partner population for people like you – entrepreneurial individuals with a passion for technology who are keen to continue learning and have a flexible can-do attitude. As someone who can help shape the Africa of tomorrow, Microsoft has a vested interest in making sure you get the start you deserve and has developed this ground breaking new program with your needs in mind.
Think of it as a full-time 6-month opportunity to inject fresh ideas and energy into a team, and a chance to show what you can do. In the first part of your internship, you will be given four weeks of the latest Microsoft training (Microsoft products and solutions) and practical business skills. This will be supplemented by monthly training sessions to continue your professional development and enhance your skills and ability to support the partner organisation you are working with.

All interns will be paid a stipend and will be located at and employed by the partner organisation on a full-time basis for the six-month internship period.
Requirements:
You can commit to completing a full-time six-month internship
You have completed grade 12/Matric and an A+ certification
You have the right to work in the country where you are currently located.
You reside in or can travel to Johannesburg, Gauteng.
How to Apply
To apply, please send an updated Resume/CV (max 2 pages), and a short cover letter outlining why you would like to be considered for this opportunity. Include your name, surname and A+ in the subject line. Kindly send this to: [email protected]
For More Information:
Visit the Official Webpage of the Microsoft 4Afrika Internship Program