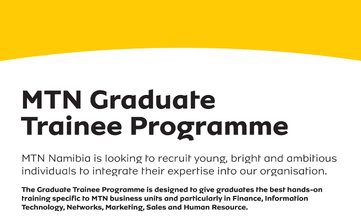 Application Deadline: May 24th 2019
MTN Namibia is looking to recruit young, bright and ambitious individuals to integrate their expertise into your organization.
The Graduate Trainee Programme is designed to give graduates the best hands-on training specific to MTN business units and particularly in Finance, Information Technology, Networks, Marketing, Sales and Human Resource.
The Programme shall be for a period of 24 months.

Application are now invited from suitably qualified fresh graduates from recognized universities to join MTN Namibia in the fields stated above.
Requirements
Must hold a Full Grade 12 Certificate; with 5 credits or better of which English and Mathematics are a must.
Must have a degree and graduated not earlier that 2017 with merit or better in the field of Accountancy, Commerce, Full CIMA/ACCA or CA: Computer Science/Information Technology with a strong bias in Software Development/programming and database systems/Mathematics/Economics/Statistics/ An Equivalent of Bachelor's degree/technical certification in Telecommunications or relevant field/Human Resource Management/Marketing/Business administration.
Be Enthusiastic and Have a high attention to detail
Strong analytical, problem solving and communication skills
Independent, self-motivated and hardworking
MTN Business Namibia is an Employment Equity company of which preference will be given to Namibian applicants from designated groups who meet the minimum requirements / persons with disabilities meeting the minimum requirements are encouraged to apply for the vacancy / position.
Candidates who can read, write and speak Chinese are encouraged to apply.
To apply for this programme email your details to: [email protected]
For More Information:
Visit the Official Webpage of the MTN Namibia Graduate Trainee Programme 2019