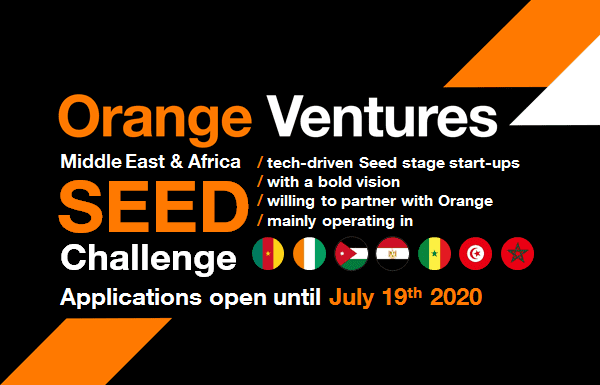 Application Deadline: July 19th 2020
The Orange Ventures MEA Seed Challenge aims to give entrepreneurs in Africa and the Middle East the means to launch and develop their business.
This challenge targets seed ventures with high growth potential and predominantly new technologies driven. Entrepreneurs in this region often experience more difficulties in accessing financing due to the low number of active investors, especially for seed investments. Investing in and supporting these entrepreneurs is key to the continent's development and an important issue for Orange, which wishes to increase its co-operation with these innovation players.
So if

You have a bold vision with passion for disruption and expansion
You are willing to partner with Orange
You are a tech-driven start-up
You are mainly operating in Cameroon, Côte d'Ivoire, Egypt, Sénégal, Tunisia, Morocco and Jordan
You run Seed stage company, you have not raised more than €1m in total equity funding
Apply to the Africa Middle & East SeedChallenge
To be eligible to this challenge, you need
– that most of your operations is based in one of the selected country, or your startup is headquartered in one of those countries
– that you are seed or pre-seed
– you are mostly tech driven
Then, based on the information you provided with your application, you are selected on our understandings of your growth potential and your fit with Orange strategic priorities.
Orange Ventures plans to invest a total of €500,000 in the MEA start-up ecosystem as a result of this challenge, with up to seven seed stage start-ups benefitting from an investment of between €50,000 and €150,000. The Orange Ventures MEA Seed Challenge is open to start-ups in Cameroon, Côte d'Ivoire, Egypt, Jordan, Morocco, Senegal and Tunisia. It targets start-ups at the seed stage, with high growth potential and new technologies at the core of their business.
If you are selected, we will provide you with:
– An equity investment up to €150k
– A direct Point of Contact among Orange's subsidiary in your country to facilitate and support your company in its development
– [For the 1st prize] A 3-month incubation program with our partner Seedstars
Selection Process
Step 1: Lead
We make a first analysis of your company to see if you match our basic criteria in terms of Geographical scope, Sectors and Investment stage.
At the end of this process, we'll keep you updated if your company made it to the next step
Step 2: Priorisation
At this stage, we start to dig into your financials and investment deck. We will review 6 different categories:
– Orange Ventures fit
– Quality of your application
– Market opportunity
– Team
– Product / Service
– Financials
After this and depending on our analysis, we decide if we move forward in our process. We'll send you an email to keep you updated on our process
Step 3: Validation
We schedule an interview with you and your team to dig into your business. We may ask for some references (customers, team members, stakeholders etc.).
At the end of this step, we make our final selection and proceed to our last step.
Step 4: Due Diligence
During this step, our lawyers and partners will start the due diligence process (Legal, Tax and Financial) to control check that everything is in order within your company.
Step 5: Closing
We will announce the winners and proceed with the investment at Vivatech Paris 2020 in September 2020.
For More Information:
Visit the Official Webpage of the Orange Ventures MEA Seed Challenge 2020