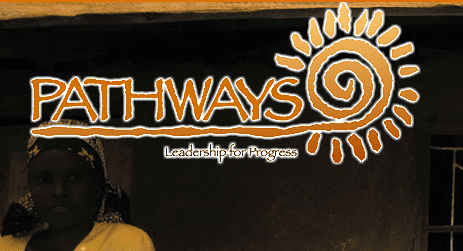 Application Deadline: August 31st 2016

PATHWAYS Leadership for Progress is an international leadership training program (currently only available in Kenya) that:
Offers a leadership training opportunity to disadvantaged youth in developing countries (AIDS orphans, women, others);
Provides mentoring to shepherd motivated students who want to improve their countries;
Builds tomorrow's leaders in their own communities; and
Offers an ongoing support network.
PATHWAYS Leadership for Progress is a leadership program and is now accepting applications from highly qualified undergraduate students with financial need commencing studies in October 2016. The goals of the PATHWAYS program are to
1) develop the student's leadership ability through supporting their efforts to improve their community,
2) facilitate the education and encourage career development of individuals who are highly qualified academically, motivated, and dedicated to improving their country,
3) provide mentoring to establish the future leader in his/her career and to assure the successful implementation of the community project and
4) foster lifelong civic-minded collaborations among youth from different ethnicities.

Along with participation in this program is the availability fee assistance to those accepted to the University of Nairobi, Kenyatta University main campus, Jomo Kenyatta University of Science and Technology main campus and Technical University of Kenya, Nairobi. Only students under the regular/module I programme are eligible
Requirements  
Copy of Admission letter from the University
KCSE overall grade average of B or higher.
Demonstrated financial need.
Strong interpersonal, communication and educational skills.
Be willing to identify a public primary school and offer mentorship to the pupils
Be willing to identify a local/community women's/youth self-help group and through PATHWAYS guidance assist them in starting and running a table banking enterprise and be willing to train them on how to start and succeed in running one or more income generating activities.
Three letters of recommendation from three different people in leadership positions who are familiar with your abilities and character (e.g. secondary school teachers/educational professionals, local administrators, religious leaders) (attach).
Copies of KCPE/KCSE official results certificate (attach).
Recent photo of student (will not be returned
Support:
The program will cover most of the student's university expenses toward a Bachelor's degree not covered by any government or private grants for 2 semesters per year contingent upon satisfactory progress each year.
The student is also expected to apply to PATHWAYS for a small grant to start the women's table banking enterprise as well as support for the mentoring program.
Apply Now for the PATHWAYS Leadership for Progress Training Program 2016
For More Information:
Visit the Official Webpage of the PATHWAYS Leadership for Progress Training Program 2016