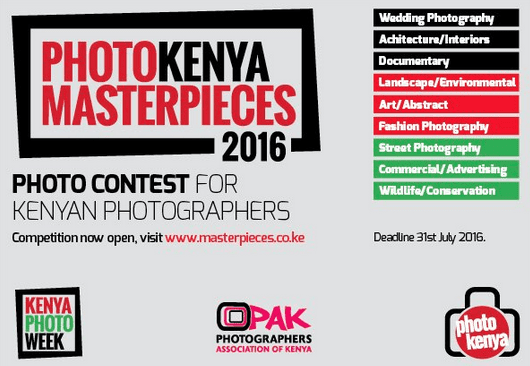 Submission Deadline: July 31st 2016
Photo Kenya Masterpieces seek to recognize outstanding and creative photography work among photographers in Kenya. The award concentrates more on creative genres in photography namely Architecture and Interiors, Wildlife and Conservation, Commercial/Advertising, Landscape/Environmental, Weddings, Street Photography, Fashion Photography, Travel and Phone Photography.
Requirements:

This photo contest is free
All entries must be single entries (series not allowed).
To participate you must be 18 years or above, have a valid Kenyan ID or passport.
Photographs must be in digital format.  No print or film submissions will be accepted for entry into the masterpieces.
All digital files must be 8 megabytes or smaller, must be in JPEG format, and must be at least 1,600 pixels wide (if a landscape orientation) or 1,600 pixels tall (if portrait orientation).
You can only submit photos taken between January 2014 and 31st July 2016.
You can only submit 2 entries per category, and in a maximum of 4 categories. Any additional entries will be automatically disqualified. You cannot enter the same photo more than once.
FILE NAMING: We encourage you to use a proper, easy to understand and unique style to name your JPEG files. For example, your Jpeg fine name can have 3 parts (1) Your name (2) Category Name (3) Title of Photo For example John Juma Abstract Light Split or Esther Mwikali Commercial Coke
All entries must be taken in Kenya. #ProudlyKenyan
Winners:
The panel of judges shall nominate 5 finalists in each category and also shortlist 5 photos for the public vote.
A total of 10 category winners and one overall winner shall receive certificates, trophies and other prizes on the Masterpieces Cocktail night on 19th August 2016 (World Photography Day).
Second position and third position shall receive certificates as well.
Timeline:
20th July – Unveiling of Judges
31st July – Closing of entries
1st -7th August – Judging
12th August – Announcement of Finalists
19th August – Award Cocktail
For More Information:
Visit the Official Webpage of the PhotoKenya Masterpieces 2016 Photo Contest for Kenyan Photographers