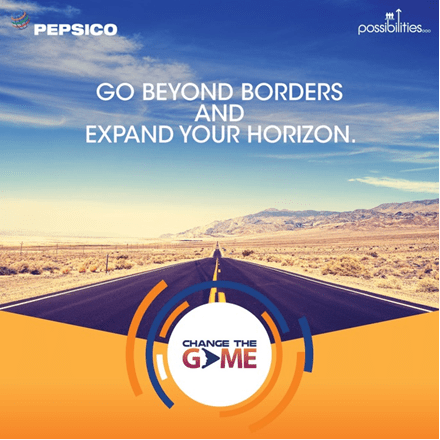 Application Deadline: October 6th 2017
Change The Game is a 4 stage challenge open to individuals with undergraduate and post graduate backgrounds, as well as working professionals with up to 3 years' experience, who are keen to make their mark globally.
Do you have what it takes to team up with PepsiCo and help us advance our nutrition product portfolio by 2020?
You need to focus your idea around the following scenario:
"You have been given 100,000 US dollars to start your own health and nutrition business in the food and beverages space. Which health and nutrition business will you start and why?" . Pepsico would provide the tools necessary to grow your idea and bring it to life.

The challenge is open to nationals of the following countries:
Eligibility Criteria
The Programme is open to the following participants ("Participants")
(i) Nationals of (A) India ("India Region Participants");
(B) Egypt, Lebanon, Jordan, UAE and KSA ( "Middle East North Africa (MENA) Region Participants")and;
(C) Pakistan and Philippines ("Asia Pacific (APAC) Region Participants") who are
i. Between the ages of 18 (eighteen) and 30 (thirty) years as on 1st September, 2017 and
ii. Students pursuing graduation and post-graduation from any university (could be any year); or
iii. Participants who have just obtained their graduate or post graduate degree(s) from any
university; or
iv. Having up to 3 (three) years of work experience from the date of obtaining the last bachelor or master degree.

Award:
Present your business idea to our global CEO & enjoy an international experience with PepsiCo!
The top regional winning teams from Asia Pacific, India and the Middle east & North Africa will receive a regional job offer or internship.
They will be eligible to go on an all-expenses paid trip to Dubai where they will compete for the finals where they could win an all-expenses paid trip to New York to present their business idea to out Chairman & CEO Indra Nooyi.
This will be followed by a yearlong international experience OR a 2 month international internship across one of our locations in Asia Pacific, India and the Middle East & North Africa.
Regional first runners up will receive either a local job offer or 1 week shadow experience with our local business leaders.
Regional second runners up will receive a local shadow experience for 1 day with a PepsiCo Leader.
Registration
(i) The Participants need to form a team of two members who are of the same nationality and/or residency in case of the Republic of Korea and Thailand and are in the same academic year, if studying ("Team"). The Teams must then visit the Website and complete the registration form.
(ii) The Team members must ensure all the details provided in the registration form are correct. Any details found incorrect would entail a disqualification from the Programme for the Team.
(iii) Registration forms need to be completed and submitted by October 6th, 2017
as per the respective time zones from where the Participants are registering. Anything submitted after this date will not be accepted by the Organizers.