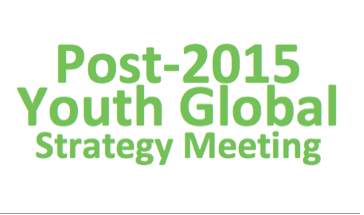 Deadline: 7th of May 2014
WHEN? 6-8 June 2014
WHERE? Bangkok, Thailand
WHY?
Young people have an important role to play in the lead up to the Post-2015 Development Agenda. For the last two years, several youth organizations and coalitions have been involved through difference consultations, UN meetings, reports and other spaces.
WHAT?
Given that the new development agenda is fast approaching and the importance of mobilizing across movements and regions, the Youth Coalition for Sexual and Reproductive Rights (YCSRR) is organizing a global strategy meeting for young activists involved in the Post-2015 discussions.
The purpose of the meeting will be to strategize around engagement and agenda setting across youth movements, advancing young people's demands going into Post-2015 and building upon the inter-linkages between development issues and sexual and reproductive rights.
WHO?
Young people from all regions who are involved in the Post-2015 UN Process are invited to apply.
The meeting is open to young people working on sexual and reproductive rights as well as those coming from other movements. Please note that young people from the Global South will have priority.
For More Information:
Visit the Official Webpage of the Post 2015 Youth Global  Strategy Meeting